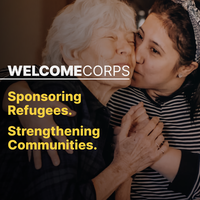 The recently-announced Welcome Corps will empower everyday Americans to come together to privately sponsor refugees. Citizens of the U.S. as well as lawful permanent residents can apply to the Welcome Corps to form Private Sponsor Groups (PSGs) to directly support and assist refugees arriving in their local communities.
PSGs must have a minimum of five members over the age of 18 who live in or near the community into which they will welcome refugees. Groups can be formed by friends, neighbors, work colleagues, members of faith groups, book club members – – any group of adults that comes together for this purpose, meets the requirements, makes the commitment, and raises adequate funds.
Volunteer members of PSGs will greet refugee newcomers at the airport, secure and furnish initial housing, help enroll children in school, assist adults in finding employment, and support refugees in navigating the many systems and completing the myriad tasks involved in building lives in a new, unfamiliar community.
PSGs must raise a minimum of $2,375 in cash and in-kind contributions per refugee newcomer being welcomed. Of course, the cost of living in a given community may make it necessary for groups to raise more than the minimum per capita requirement. Sponsors commit to providing financial support – as well as friendship and guidance – for the refugees' initial 90 days in the U.S. Since it often takes longer for an individual to integrate into their new community, sponsors also commit to making connections to ongoing support and services available from local organizations.
Volunteers will receive training, tools, and resources to help them succeed in their efforts. The U.S. Department of State is funding a consortium of nonprofit organizations with expertise in refugee resettlement to implement the Welcome Corps. This consortium includes HIAS, Integrated Refugee and Immigrant Services, the International Refugee Assistance Project, the International Rescue Committee, and others. These nonprofit organizations will provide support and guidance to PSGs as they develop plans, fundraise, and carry out the day-to-day activities of helping refugees resettle.
Once your PSG's application has been approved, the Welcome Corps will match your group with an individual, couple, or family that has been vetted, screened, and approved by the U.S. government for resettlement. Many of those arriving in the first few months of the Welcome Corps will come from sub-Saharan Africa – where they will likely have been waiting for years for a durable solution to their plight as refugees.
Beginning in mid-2023 the Welcome Corps will expand to allow private sponsors to identify refugees they wish to sponsor. More information on this next phase of the program will be made available by the government in the coming months.
The Welcome Corps differs from other recent initiatives to support refugees and asylum seekers arriving in the U.S. in that it is not targeted toward certain nationalities or groups of refugees or asylum seekers facing specific circumstances, such as the withdrawal of U.S. troops from Afghanistan and the war in Ukraine.
For complete information about how the Welcome Corps supports private sponsors and how to apply to become a private sponsor, you can view this official Information Session.
---