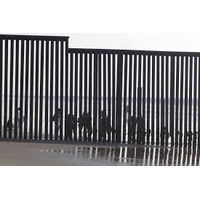 Title 42, a public health care policy from 1944 that has been used since 2020 to rapidly expel large numbers of arriving migrants without allowing them to seek humanitarian protection (also known as asylum) under U.S. and international law, is ending tomorrow, May 11. Peace Corps Community for Refugees would like to brief you on relevant immigration policies and give you context to the stories we will be hearing about in the media.
What is Title 42?
Title 42 was resurrected in March 2020 to address public health concerns at the beginning of the COVID-19 Pandemic. This policy essentially gave U.S. immigration and border authorities the power to send back migrants and refugees without giving them the opportunity to seek asylum. Border patrol agents were able to expel migrants to their home country or the country they were last in without due process. For more information on Title 42, please see our Peace Corps Community for Refugee article Title 42 Explained.
When Title 42 ends, immigration will once again be governed by Title 8, the preexisting body of U.S. law that deals with immigration and nationality. Title 8 statutes allow the U.S. to send people out of the country almost as easily as Title 42 does. Title 8 is explained in more detail here.
Therefore, the end of Title 42 does not mean the end of unjust expulsions of new arrivals. Title 8 does require the U.S. to give migrants who request asylum a chance to present their case, but it still allows for expedited removal for those who arrive at the border "unlawfully." This is expected to work in conjunction with a new regulation that will disqualify migrants from asylum if they failed to seek refuge in a third country before crossing into the U.S. And, unlike Title 42, those deported under Title 8 are banished from the U.S. for five years. Migrants have to seek asylum via the CBP One App or risk expulsion and a five-year ban from trying to enter the U.S.
On April 27, the U.S. Department of State issued a decree stating "the lifting of the Title 42 order does not mean the border is open." It goes on to say: "When the Title 42 order lifts at 11:59 PM on May 11, the United States will return to using Title 8 immigration authorities to expeditiously process and remove individuals who arrive at the U.S. border unlawfully. These decades-old authorities carry steep consequences for unlawful entry, including at least a five-year ban on reentry and potential criminal prosecution for repeated attempts to enter unlawfully. The return to processing under Title 8 is expected to reduce the number of repeat border crossings over time, which increased significantly under Title 42. Individuals who cross into the United States at the southwest border without authorization or having used a lawful pathway, and without having scheduled a time to arrive at a port of entry, would be presumed ineligible for asylum under a new proposed regulation, absent an applicable exception."
What are other policies that protect migrants?
The rights of migrants, refugees and asylum seekers are protected by international law, regardless of how and why they arrive in a country. They have the same rights as everyone else, plus special or specific protections including:
The Universal Declaration of Human Rights (Article 14), which states that everyone has the right to seek and enjoy asylum from persecution in other countries

The 1951 UN Refugee Convention (and its 1967 Protocol), which protects refugees from being returned to countries where they risk being persecuted

The 1990 Migrant Workers Convention, which protects migrants and their families

Regional Refugee law instruments (including 1969 OAU Convention, 1984 Cartagena Declaration, Common European Asylum System and Dublin Regulation)
What is the current administration doing in anticipation of Title 42 ending?
Other policies enacted by the current administration include setting up migrant processing centers in Latin America, starting in Guatemala and Colombia to vet people for eligibility to resettle in those countries, the U.S., Canada, or Spain. A sponsorship program now allows up to 30,000 Cubans, Haitians, Nicaraguans, and Venezuelans to fly to the U.S. each month. CBP One, a glitchy phone app was developed that asylum seekers in Mexico must use to request entry at ports along the southern border. You can read more about the many unresolved issues regarding the faulty CBP One app here.
What is next for Peace Corps Community for Refugees and our members?
Peace Corps Community for Refugees will follow up with our membership on advocacy next steps. We believe the best solution is comprehensive immigration reform. The last time comprehensive legislation was passed was 37 years ago. We all know because of our affiliation with Peace Corps that sustainable change is the most effective, long-term resolution. Peace Corps Community for Refugees is committed to supporting and advocating for refugees on their behalf.
Please stay tuned for action steps.
---