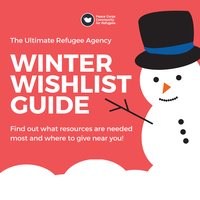 By: Danielle Shulkin (RPCV Panama '19-'20)
---
As we move deeper into the holiday season, many people have already or are soon to exchange gifts with loved ones, both near and far. For many, this will be the first time celebrating a special occasion together with family since the beginning of the Covid-19 pandemic. For others, however, this may be the first holiday season that they are spending hundreds of miles away from their homes, families, and celebrations. After the Taliban take-over in Afghanistan earlier this year, roughly 120,000 people were evacuated from the Middle Eastern country, ravaged by Western foreign policy and local militant groups, with thousands of them arriving in states across the U.S. in late summer. Most of these new arrivals have come to their new homes with nothing other than what they could carry, and are now tasked with creating lives for themselves and their children from scratch, on top of the challenges of finding careers, learning new languages, and developing a community in a different cultural context.
Now, many Americans are looking for ways they can continue to support Afghan refugees and others who may be experiencing their first American winter and holiday season. In this season of giving, consider supporting one of the following initiatives to welcome these people to their new homes and help them create a new life in a foreign land.
There are a myriad of ways in which to support refugees around the world. While many people prefer to search for hands-on ways in which to do this work, the reality is that oftentimes direct donations are what is truly needed most. We hope you'll join us by buying a gift for a refugee and sharing this opportunity with your family and friends. 'Tis the season for giving!
---