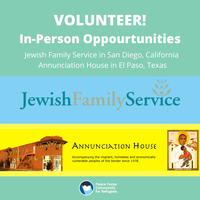 Annunciation House in El Paso, Texas and the Jewish Family Services of San Diego, California are calling upon RPCVs for help. In-person volunteers are needed to support the influx of refugees who have recently been allowed admittance into the United States.
Annunciation House in El Paso, Texas
Seeking volunteers for a summer internship position, and individuals looking to commit to a year long residency.
Site Shift Coordinator: responsible for the operation and supervision of the hospitality center during their shift. This volunteer must be very responsible, bilingual, trustworthy, dependable, mature, with organizational skills and initiative.
Support Volunteers: provide presence, supervision, and carry out a variety of tasks. This includes doing refugee intakes, staffing center office, greeting visitors, taking donations, etc. Support Volunteers also assist in the supervision of the clothing room.
Travel & Transportation: arranges transportation to the bus station or airport. Volunteers also see to it that Care Packages are provided to families traveling long distances by ground transportation.
Kitchen & Cook: ensures individual boxed meals are provided for guests, maintains kitchen cleanliness, puts away leftover food, takes stock of needed supplies.
Care Package Preparation: makes sandwiches and fills Ziploc bags with food needed for travel by air or bus
Laundry, Cleaning & Supplies: ensures all linens and towels are washed, oversees laundry supplies, assists in organizing and supervising the daily cleaning of the site by the guests
Health Care: sorting of over-the-counter medications is needed, as are on-call health care providers for non-emergency situations.
Clothing Bank: Sorts and organizes clothing donations and assists each new refugee in picking out a clean change of clothes.
Interested volunteers looking to serve over the summer can apply here. Those wishing to serve in a year long commitment can apply here. El Paso-based volunteers can apply here.
or questions please contact: http://refugees@annunciationhouse.orgrefugees@annunciationhouse.org (for local El Paso/Las Cruces community individuals) or volunteercoordinator@annunciationhouse.org (for out of town individuals willing to travel to El Paso.)
Can't volunteer at this time? Consider a financial or material donation to support Annunciation House's efforts.
Jewish Family Services in San Diego, California
Seeking in-person volunteers who can help transport refugees.
Needs include:
Drivers to transport refugees to the airport/bus station, help families navigate through the Greyhound or Airport by printing boarding passes and advocating for them until security.
Drivers to transport families to and from medical appointments.
Drivers to deliver food, clothing, and other resources to the JFS campus and to the hotels where families are staying (contactless).
Interested volunteers please contact Katrina at sheltervolunteer@jfssd.org and copy info@pcc4refugees.org. Please mention if you are a Returned Peace Corps Volunteer.
---