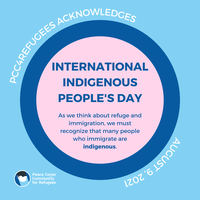 Tomorrow we celebrate International Indigenous People's Day we would like to spotlight a few points to consider when we talk about and focus on refugees and immigrant issues.
Indigenous people are typically the most marginalized group in their home countries and experience the highest levels of illiteracy, unemployment, and poverty. So as we think about refugees and immigrants, we recognize that many of the people who immigrate are indigenous. While every experience is unique, we can look deeper at what this could mean for an indigenous person traveling to another country. For example, they might not speak a common language such as Spanish and would have difficulty communicating with others in the new country. They might also not have family ties, community or indigenous identity ties, other than country nationality, leading to further isolation.
Also, it is imperative to recognize that, with climate change, many of the future refugees and immigrants will be indigenous as they are more often the ones who work closely and are more connected with natural resources as this is part of their culture and has been for hundreds of years.
Lastly we must look at the intersectionality of indigenous, refugees, and immigrants. This intersectionality shows up such as native Americans who had border lines moved around them, making them outsiders of their own country; The migration of indigenous peoples within their own country for better economic opportunities; The lack of understanding of the indigenous identity and special protections under law leading to lack of resources provided to these communities.
Click here for additional information from the Center for Race and Gender at the University of California, Berkeley: https://www.crg.berkeley.edu/research/crossings-research/
---