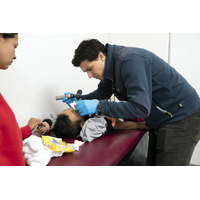 Peace Corps Community for Refugees is pleased to announce we're able to match donations to Clinica HOPE up to $5,000. The medical clinic, launched last year by the Hope Border Institute, provides healthcare to migrants arriving at the US-Mexico border in Ciudad Juárez.

Clinica HOPE is staffed by volunteer doctors and medical professionals from El Paso, Texas; one of those volunteer doctors is Brian Elmore, RPCV (Sierra Leone, 2014 and Zambia, 2015-2017). Dr. Elmore gave a presentation recently to PCC4R members about the work of Clinica HOPE and the conditions at the border for refugees, asylum seekers, and other people on the move. His presentation is available to view here.

"Most migrants face overwhelming barriers to getting healthcare," said Elmore. "We see people suffering from injuries sustained in assaults and other violent attacks, as well as from conditions brought on by environmental exposure during their long journeys to the US-Mexico border.

"We also see the same illnesses – such as respiratory viruses – experienced by the rest of the population," Elmore said. "And we see many patients with chronic conditions exacerbated by what they've been through – including, sometimes, the confiscation of their medications by U.S. authorities."

In addition to those presenting with physical conditions, Elmore notes that many refugees and migrants also suffer from post-traumatic stress. "The men, women, and children forced to flee their homes endure horrendous journeys," Elmore said. "Many have been beaten, raped, robbed, kidnapped, or harmed in other forms of violence. Many others have witnessed violent crimes, including murder. They arrive at our clinic in desperate need of trauma-informed medical and mental health treatment."

If you'd like to support the volunteer work being carried out by Dr. Elmore and his colleagues, you can make a donation that will be matched by PCC4Refugees up to a total of $5,000. To ensure your donation is matched, please follow these instructions:

Visit the Hope Border Institute's donation page

In the "Organization/Company" box, write "Peace Corps Community for Refugees" - this will ensure that your funds are tracked and matched appropriately

You can donate by credit card or e-check.

To ensure that your donation is matched by PCC4Refugees, send our treasurer an email <dondrach@gmail.com> stating the amount of your donation

If you're a medical professional interested in volunteering with Clinica HOPE team, you can complete this Google Form to express your interest.
---