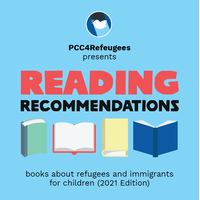 by Morgan King, RPCV Panama

Teaching our children and young students about global issues often seems intimidating, daunting. How much is too much for a child to know? While calculating the right balance for your family or classroom, keep in mind that the way we educate our children about sensitive issues shapes the minds of future generations.
The reality is that millions of children worldwide face desperate migratory perils. Forty percent of refugees are children. It is imperative that we have open conversations with our students and children to heighten their sensitivity to classmates, playmates, and friends who have experienced these struggles.
The PCC4Refugees community compiled the following book recommendations to ease the conversation about refugees and migration in your home and classroom. If you have further resources to recommend, please email info@pcc4refugees.org.
---
Good Reads Summary: "Shaun Tan evokes universal aspects of an immigrant's experience through a singular work of the imagination. He does so using brilliantly clear and mesmerizing images. Because the main character can't communicate in words, the book forgoes them too. But while the reader experiences the main character's isolation, he also shares his ultimate joy. "


Recommended: Grades K+
"When the Stars are Scattered" by Victoria Jamieson & Omar Mohamed

Good Reads Summary: "Based on Mohamed's experiences, this honest yet hopeful story of Somali brothers Omar and Hassan sheds light on the life in limbo they faced in the Kenyan camps of Dadaab after being uprooted by civil war. A varied and colorful palette lightens, though never undermines, the uncertainty of the boys' future as they long for a reunion with their mother and a chance to escape the monotony and dangers of the refugee camp."


Recommended: Grades 4-8
"The Paper Boat: A Refugee Story" by Thao Lam

Good Reads Summary: "A deeply personal, soul-baring story showcasing a mother's love at the face of horrific events, never shying away from the truth that has happened. In emotional cut-paper scenes, the plight of immigrants today connects with the harrowing refugee stories from the past."


Recommended: Grades K-2
"Drawn Across Borders: True Stories of Human Migration" by George Butler

Good Reads Summary: "Resisting his own urge to walk away, award-winning artist George Butler took his sketchbook and made, over the course of a decade, a series of remarkable pen-and-ink and watercolor portraits in war zones, refugee camps, and on the move. While he worked, his subjects—migrants and refugees in the Middle East, Europe, Africa, and Asia—shared their stories. "


Recommended: Grades 6-12
"What is a Refugee?" By Elise Gravel

Good Reads Summary: "Who are refugees? Why are they called that word? Why do they need to leave their country? Why are they sometimes not welcome in their new country? In this relevant picture book for the youngest children, author-illustrator Elise Gravel explores what it means to be a refugee in bold, graphic illustrations and spare text. This is the perfect tool to introduce an important and timely topic to children."


Recommended: Grades pre K - 1
"Lubna and Pebble" by Wendy Meddour

Good Reads Summary: "Lubna's best friend is a pebble. Pebble always listens to her stories. Pebble always smiles when she feels scared. But when a lost little boy arrives in the World of Tents, Lubna realizes that he needs Pebble even more than she does. This emotionally stirring and stunningly illustrated picture book explores one girl's powerful act of friendship in the midst of an unknown situation."


Recommended: Grades K - 3
"One Good Thing About America" by Ruth Freeman

Good Reads Summary: "It's hard to start at a new school . . . especially if you're in a new country. Back home, Anais was the best English student in her class. Here in Crazy America she feels like she doesn't know English at all. So she writes letters to Oma--lots of them. She tells her she misses her and hopes the war is over soon. One Good Thing About America is a sweet, often funny middle-grade novel that explores differences and common ground across cultures"


Recommended: Grades 3 - 6
---