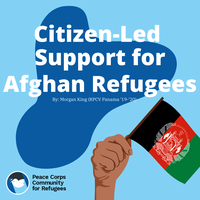 Peace Corps Community for Refugees: Citizen-Led Support for Afghan Refugees
By: Morgan King (RPCV Panama '19-'20)
"RPCVs understand what it means to be a new neighbor. As RPCVs it feels natural to welcome folks in return. You're not a savior, you're not pulling people out of danger, you're welcoming new neighbors." Shawn Reagan (RPCV Malawi '11-'13)
On August 30, 2021, the United States withdrew its 20-year military presence from Afghanistan, causing a ripple effect across the globe. The immediate impact on thousands of Afghans was devastating. As the American embassy closed and military posts were dissolved, the Afghans who worked alongside US forces for decades were suddenly unemployed and at-risk of violent retaliation from local forces. The world watched in horror as men, women, and children flooded the Kabul airport in desperate search of escape. Newsfeeds on every platform filled with images of families being trampled, bombs exploding, and people being killed for their affiliation with the United States.
Amongst the sea of people pushing through Taliban forces to enter the Kabul airport, Mohammed, his 6-month pregnant wife, and their 13-month old daughter clung to a single backpack filled with their passports, vaccine cards, and a few protein bars. Mohammed had worked as a translator for the United States troops in Kabul for his entire career when, one day in August 2021, he was informed that his job was dissolved effective immediately due to the US withdrawal. Now unemployed and at risk of retaliation, Mohammed and his wife were forced to leave behind the life they had built and the home they shared with their parents and siblings. Mohammed's chance to qualify for a Special Immigrant Visa (SIV) for resettlement in the United States only included his nuclear family unit, meaning he had to say a heartbreaking goodbye to his extended family with no pathway for reunification.
Mohammed is one of nearly 70,000 Afghans who have sought refuge in the United States in the aftermath of the US military withdrawal. The significant influx of refugees, following a period of stagnation during the Trump administration, has overwhelmed resettlement agencies. In the absence of a nationally coordinated resettlement system, Mohammed came into contact with a web of agencies providing various degrees of crisis-oriented support. Passed from one resettlement agency to new case worker to the next, Mohammed, his wife, and child funneled through a three-month stopover at Fort McCoy, Wisconsin, where Mohammed's wife birthed a healthy daughter, before boarding a one-way flight to Houston, Texas.
Over the course of four months, Mohammed was evacuated from his home country, shuttled across the world, and assigned to an apartment with his wife and two daughters in a city he'd never heard of. Fortunately fluent in English, Mohammed spent his first few weeks in Houston finding a job, buying a car, tracking down his new daughter's birth records, and getting social security cards completely on his own. He quickly learned about the locally recognized the security concerns of his assigned housing complex, including high rates of violence and robberies. Given the safety issues, Mohammed fears leaving his wife, who does not speak English, alone with the children every day as he commutes to work in the local school system. Despite their concerns, the family is obligated to remain in the unit for seven months or risk losing their government benefits. A complicated catch-22 that many resettled families face.
Like many Afghans, Mohammed has been unable to maintain meaningful contact with his assigned caseworker or receive necessary support from the overwhelmed resettlement agencies. In the absence of family networks, local contacts, or a clear hierarchy for escalating issues, resettled Afghans are then left to navigate their new communities entirely alone. In response, coalition-based, citizen-led movements have emerged to provide longer-term, localized support to ensure refugees transition from culture-shocked newcomers to integrated community members. Returned Peace Corps Volunteer (RPCV) groups nationwide responded to the increase of Afghan refugees by creating a sense of community and permanent welcome for their new neighbors.
In Mohammed's case, as he was taking out the trash one evening he heard his Afghan neighbors speaking English with someone and rounded the corner to see who they had befriended. He jumped into the conversation with Ed Pettitt who was introducing himself to Afghans in the apartment complex. Ed explained he was part of the Houston Area Returned Peace Corps Volunteers and offered donations of couches, chairs, and baby items.
From that moment on, Ed served as a point of contact to connect Mohammed's family to basic necessities pooled together by the RPCV Houston community. He showed up when resettlement agencies and caseworkers did not. Mohammed and the other Afghans in the building knew they could count on Ed and the Houston RPCV group when it felt like no one else was there. This individual level community engagement bridges a gap and creates a sense of welcome that resettled Afghans desperately need.
In many ways, the RPCVs in Houston, Texas were well equipped for the arrival of 2,500+ Afghan refugees through the fall of 2021. Shawn Reagan (RPCV Malawi '11-'13), former President of the Houston Area Returned Area Peace Corps Volunteers, explained: "For us, both as Houstonians and RPCVs, we've been responding to emergencies since the day we were born. From Hurricane Harvey to the 2021 Texas power crisis, we know how to respond to emerging needs."
True to that description, the Houston RPCVs sprung to immediate action in August 2021. They began raising money to provide public transit cards and direct cash assistance to forty new Afghan families. As the needs evolved from mattresses and metro cards to professional skills and language competencies, the Houston RPCVs adjusted their response efforts to supplement overwhelmed agencies and ensure Afghans are able to thrive in their new environment. Nora McKenna (RPCV China '17-'19) established "English Corner" in early February 2022, a weekly two-hour English club which invites Afghans and RPCVs to meet in a public park to practice their language skills.
As Kevin Barnard (RPCV Ecuador '87-'89), active member of the Houston RPCV refugee support efforts, summarizes: "Addressing the culture shock is more than giving someone a mattress and a map of the city. It's giving someone a soccer ball and inviting them to soccer practice. It's giving them a Turkman carpet or a Kazan pressure cooker to make them feel understood."
On the other side of the country, the Northern California Peace Corps Association (NorCalPA) capitalized on the outpouring of community support to partner with Jewish Family and Community Services (JFCS) in early 2022. A dozen volunteers from Monterey to Sacramento volunteered to form a Community Welcome Team which currently supports an Afghan family of eight.The Akhtar family, including a mother, father, and six children ranging from 3 to 13 years old, arrived in the Bay area in January from Afghanistan.
Similar to Mohammed's family in Houston, the Akhtars in San Francisco have experienced a tumultuous arrival in their new country. From cultural shock to linguistic barriers, the integration process takes significant time and effort. While JFCS ensured the children enrolled in school and the family settled into temporary housing, the RPCV-led Welcome Team is responsible for introducing the family to the community, helping find employment, connecting children to music/sports classes, teaching English, providing transportation, and creating a baseline community network.
Based on the Akhtar's specific needs, the NorCalPA group is primarily focused on supporting language acquisition, finding an affordable vehicle, and supporting the father, Abdul, in finding employment. Abdul was a high level professional in Afghanistan prior to his family's evacuation but has found that his educational credentials do not easily transfer to the American job market. As their period of government support wanes, it is critical that he finds employment to financially support his family in one of the nation's most expensive areas. Members of the RPCV group visit the family at least three times a week to help with homework, drive the family to appointments, and teach English.
The NorCalPA group is committed to ensuring their new Afghan neighbors are well acclimated to the environment. In May, JFCS hosted an Eid al-Fitr gathering which included the Bay area Afghans and their Community Welcome Teams in a local park to celebrate and make connections. During the event, the NorCal group met another Afghan family and Welcome Team with whom they're coordinating additional activities in the hopes of creating a sense of community for the Akhtar's.
The Community Welcome Team program is designed to support the newly resettled family for 90 days before the group transitions to support another new family. Though the period of official support is relatively short, the model encourages Community Welcome Teams to build personal relationships that endure as the group transitions to support the next resettled family. NorCalPA Board and Community Welcome Team member, Kathleen Campbell (RPCV Philippines '04-'06), explains the group's philosophy like this, "With 40,000 Afghans still abroad awaiting resettlement in the United States, it is critical for RPCVs to find a way to continue supporting resettlement. We support one family. We learn from it. We replicate it. We do better next time. Giving people a place to start creating roots, getting children enrolled in school, and building relationships are so important to begin recovering from the trauma of evacuation."
The Returned Peace Corps network has engaged communities across the country to serve our new Afghan neighbors. From delivering groceries and handing out bus fare to providing jobs training and cultural integration lessons, RPCVs in resettlement hotspots such as Texas and Northern California have stepped up to ensure Afghan arrivals receive the material and community support they deserve.
Mohammed's family in southeast Houston and the Akhtars in the Bay area are two of thousands of Afghan families across the country with little or waning support from resettlement organizations, living in insecure housing, struggling with language and cultural integration, and in urgent need of financial support and employment. They're also two of thousands of Afghan families dreaming of a day they feel acclimated in their new homes and reunite with loved ones still at-risk in Afghanistan. The process of integration for our new neighbors requires full community buy in. The Peace Corps community will be there to support and advocate for Afghans at every stop along the way.
**Names, locations, and other identifying information have been altered to protect the subjects' security**

---