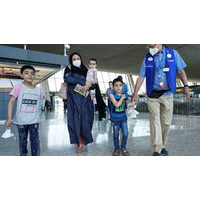 When U.S. troops withdrew from Afghanistan two years ago this month, tens of thousands of Afghans—-many of whom risked their lives in direct support of the U.S. military-—entered the United States via humanitarian parole. This temporary protection is crucial, but it doesn't provide a pathway to permanent status. And many of our Afghan allies remain stranded outside the U.S. or in hiding in Afghanistan. The Afghan Adjustment Act would fix this issue by creating a streamlined process for Afghans to apply for permanent status. It would also expand the paths to safety for those left behind.
In July U.S. Representatives Earl Blumenauer (D-OR) and Mariannette Miller-Meeks (R-IA), together with with Senators Amy Klobuchar (D-MN) and Lindsey Graham (R-SC), reintroduced the Afghan Adjustment Act. This bipartisan legislation would allow Afghans who sought refuge in the U.S. after our troops were withdrawn from Afghanistan in 2021 to apply for permanent legal residency. Currently, Afghans who were admitted on temporary humanitarian status can only gain permanent legal status through the asylum system or Special Immigrant Visa process (SIV), which face severe backlogs and long processing times. Allowing our Afghan allies to apply for permanent legal residency would help provide certainty as they rebuild their lives in the U.S.
RPCVs can support the act by messaging their representatives in Congress. If you're not sure who your Representative is, you can use this service [https://www.house.gov/representatives/find-your-representative] provided by the House of Representatives.
You can tailor this draft letter [https://www.pcc4refugees.org/articles/draft-letter-to-members-of-congress-supporting-the-afghan-adjustment-act] to reflect your position on this issue and to urge action by your Members of Congress.
---