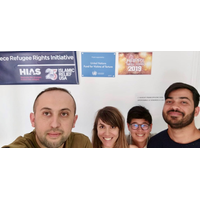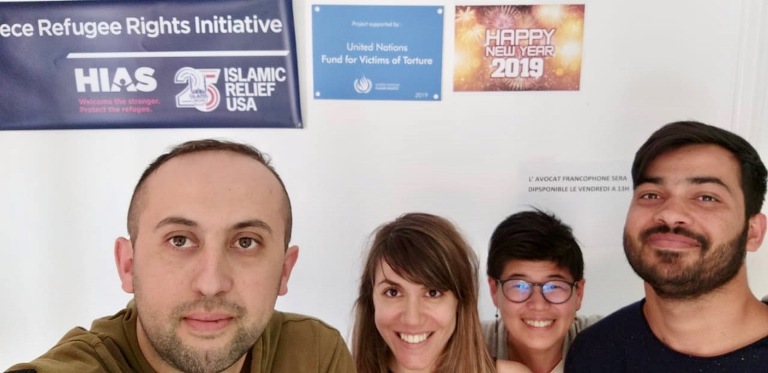 Eirene Chen, one of the first volunteers in our initiative for RPCVs aiding refugees and asylum seekers in Lesvos, has found her work so rewarding that she has extended her original three-month assignment for another two months, to June 2019.
Chen, a PCV in Uzbekistan 2000-2001, volunteers on Lesvos with HIAS Greece, an NGO providing free legal aid to the most vulnerable asylum seekers, including sexual minorities and survivors of torture and sexual violence.
RPCV Eirene with HIAS Greece Colleagues
Chen is a forced migration and international development specialist with over two decades of experience in the United Nations, and international and national NGOs.
"My decision to take up the PCC4Refugees volunteer assignment in Lesvos is the result of substantial soul-searching during a period of midlife reflection on what kind of life-work balance would be most authentic and aligned with my values and family situation," Chen said. "I was thrilled to learn about this initiative, because it brings together several things that are very dear to my heart."
First is the Peace Corps:
"Serving as a Peace Corps Volunteer is what opened my eyes to the complexity of being a responsible, globally minded American, and it is what inspired me to pursue a career in international service," she said.
Second, forced migration:
"Protecting the rights of people experiencing political and other forms of persecution is something that has deeply interested me since I was a child and I began volunteering to support refugees in my home state of North Carolina when I was in my teens," Chen said.
Third, the shorter-term assignment within the EU, when she was living in Europe, appealed. Finally, cultural interest.
"I have always found the eastern Mediterranean region fascinating and had studied a bit of the Greek language back in university." Chen now plans to pursue a PhD in the sociology of forced migration refugee integration.
"My current voluntary assignment offers an invaluable opportunity to learn firsthand the realities of the Mediterranean displacement crisis, while hopefully doing my small part to improve the situation that refugees and Greek host communities face here."
"I would absolutely recommend the Lesvos volunteer experience to other RPCVs."
Chen's recent report to our Overseas team was excerpted below by Patricia Nyhan for length reasons. Read the full report here. Eirene Chen's Full Report
Learn more about this volunteer opportunity here Our Overseas Aid page.
In distinct contrast to the majority-Syrian and Iraqi refugee arrivals from 1.5 years ago, these days 80% of all refugee arrivals to Lesvos are Afghan nationals arriving from Afghanistan, Iran and Pakistan.
Besides the Afghan arrivals, incoming refugees include smaller numbers from Iraq, Syria, Somalia and a range of Francophone African countries. And according to the latest UNHCR update, women account for 22% of new arrivals and children for 41%. 7 out of 10 children are under 12 years old. These days the majority of refugees arriving by boat from Turkey land on either Samos or Lesvos, around 200 people each week.
Things are going well with my primary volunteer assignment at HIAS Greece, which focuses on providing free legal aid to the most vulnerable categories of asylum seekers, including sexual minorities and survivors of torture and sexual violence . . . At the moment, I am the only longer-term expatriate volunteer in an otherwise small, all-Greek team of asylum attorneys and refugee advocates.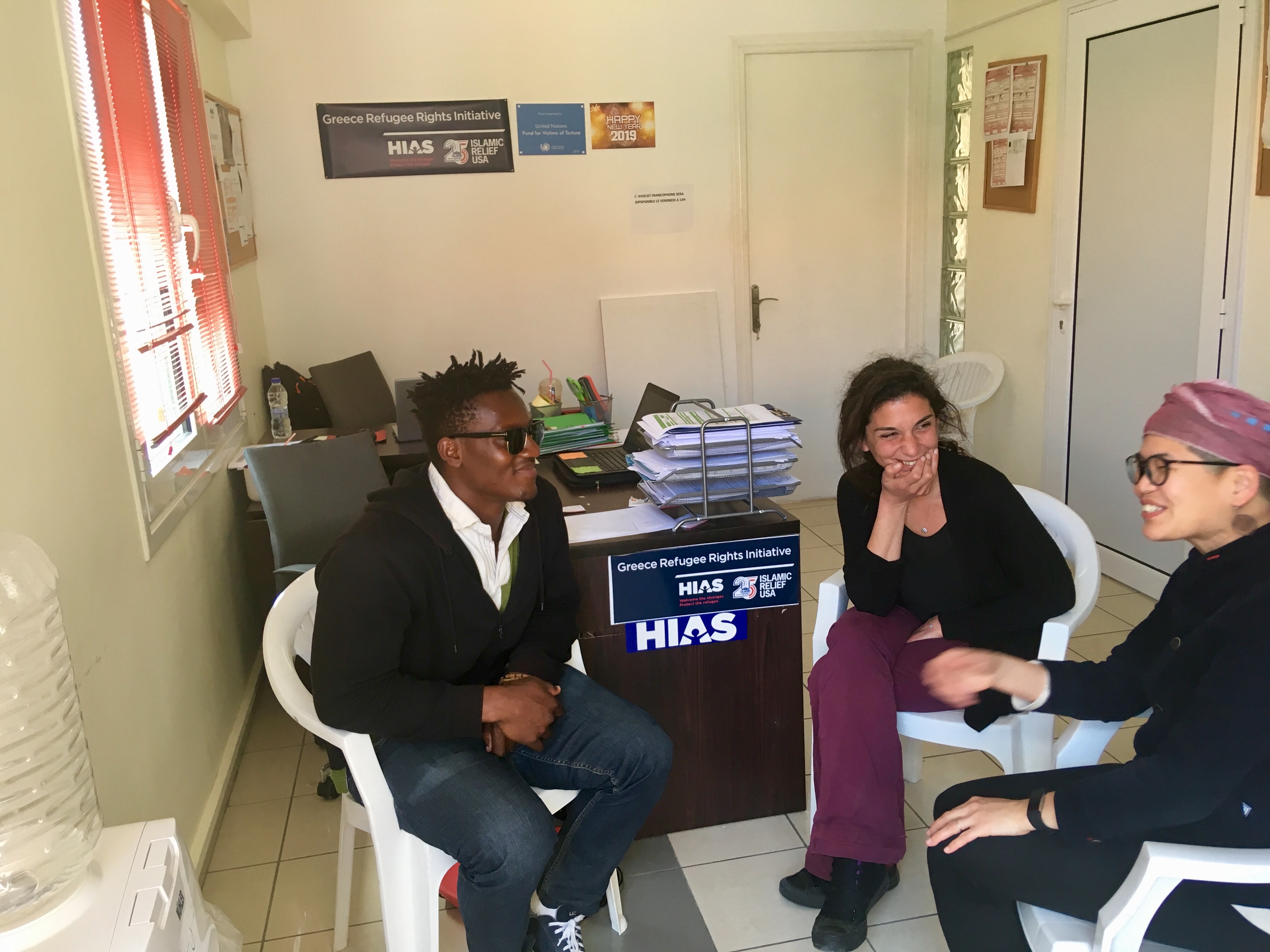 My volunteer responsibilities as a forced migration sociologist and international development practitioner are quite diverse. I work mostly inside the HIAS Greece office in downtown Mytilini and am not based in any of the three refugee camps on Lesvos, although I periodically accompany my colleagues into the Moria Reception and Identification Centre (Moria refugee camp) to visit people who are being held in administrative detention. Mostly, our clients come to see us from the camps or from other cities on the Greek mainland.
RPCV Eirene with HIAS Greece Colleague and Asylum Applicant
A typical day for me might include the following:
09am: Walk 10 minutes through a charming maze of cobblestone streets in downtown Mytilini to the harbor-front HIAS Lesvos office. Discuss the day's priorities with the HIAS Lesvos Coordinator over a freddoccino (Greek iced coffee, a local favorite) or a cup of hot Afghan green tea prepared by our Afghan interpreter.

10am: Conduct country-of-origin (COI) research on the human rights situations faced by, among others: (1) Afghans who had formerly worked for the US armed forces and who are now targeted by the Taliban; (2) Survivors of political torture in Iraq or the Democratic Republic of Congo; (3) Survivors of homophobic violence in Cameroon, Occupied Palestinian Territories and Iran.

11am: Interpret for a Cameroonian single mother who is preparing for her first asylum interview.

12pm: Accompany a Greek colleague and a Congolese client to the local tax bureau to pick up their tax ID.

01pm: Work on designing an employment survey in English and French for asylum seekers who would like to settle in Greece and find a job.

02pm: Attend a monthly interagency or working-group meeting organized by the UNHCR Lesvos field office, to learn what other refugee protection actors are doing and how to best coordinate with each other.

04pm: Attend an asylum information session for Afghan women given by one of my legal colleagues. Observe that nearly 70% of the participants are Afghan women over 55 years old who would like to reunite with adult children in Belgium, Germany and Sweden. A handful would also like to go to the US but recognize that their chances of obtaining resettlement there would not be high in the current political climate.

06pm: Finalize drafting a grant proposal to an institutional donor, such as the UN Office of the High Commissioner for Human Rights.

07pm: Debrief with colleagues over a drink at Café Pi or at Palia Agora, two café/bars that are known to welcome refugees as well as Greek and

non-Greek


humanitarian activists. RPCV Eirene at Lesvos Solidarity PIKPA Refugee Shelter Residents Meeting
9pm: Dinner with friends at a local seafood taverna or at Nan, a locally-run social enterprise
restaurant which employs refugee chefs and attracts many humanitarian aid workers.
Lesvos hosts a plethora of NGOs who help provide free services to refugees, from medical care to basic education to sport and arts activities. . . I try to visit a different NGO each weekend or whenever my schedule permits.
Living in shared accommodation with up to 9 other expatriate volunteers from all over the world has also been quite interesting . . . Overall everyone is very friendly and collegial, although at times the house has definitively taken on the feel of a vibrant up-all-night youth hostel . . . I found that it made me really miss the tranquility of RPCV Eirene at Lesvos Solidarity PIKPA Refugee Shelter Residents Meeting
the small rural Uzbek town where I had served as a PCV! I have since moved out of the shared volunteer house and now stay in a lovely
flat managed by a local university student and her family.
The atmosphere among international volunteers in Lesvos is definitely similar to Peace Corps field life, except that it is obviously multinational and there is less emphasis on learning local languages and integrating into grassroots communities.
This is likely because Lesvos is still regarded as a protracted emergency/crisis situation (of the type that Peace Corps usually does not operate in), and most volunteers in Lesvos are not participating in an international development assistance volunteering program as structured as that of the Peace Corps, but rather out of a sense of personal humanitarian solidarity with refugees. The main languages spoken by arriving refugees are Farsi or Dari, Levantine Arabic, Kurmanji or Sorani Kurdish, and French. RPCVs with skills in any of these languages would be in high demand.
Despite the high degree of transience among both refugees and expatriate volunteers, a number of NGOs here now prefer that incoming volunteers stay for longer than two weeks. A two-month commitment is considered the bare minimum for volunteers serving in more "development"-oriented organizations. However, for volunteers who cannot take as much time off, there are still organizations happy to welcome them for a minimum of 10 days.
---