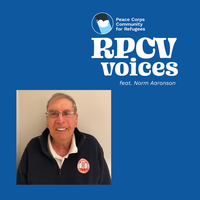 Norman Aaronson, RPCV Iran
By: Morgan King, RPCV Panama
RPCV Voices is a blog series on the Peace Corps Community for Refugees website.
The purpose is to allow returned Peace Corps Volunteers the opportunity to share their experience as refugees, work with refugee communities, or opinions about the refugee crisis. If you have a story to share, please email morganking296@gmail.com.
---
As the Vietnam war intensified in the late 1960s, Norman Aaronson was completing his first year of law school at Boston University when President Richard Nixon cancelled graduate school draft deferment. Aaronson, along with his other male classmates, had to quickly decide how to serve their country before the conscription lottery made the decision for them.
John F. Kennedy had established the brand-new Peace Corps seven years earlier and Aaronson decided to join - inspired by his twin brother and college roommate who were serving in Western Samoa and Afghanistan respectively. In 1968, he moved to an Iranian town of 50,000 residents to learn Farsi and teach English and art.
During his two years in Iran, Aaronson realized his love for teaching and developed an adept set of intercultural skills which catapulted his 5-decade career in legal advocacy for asylum seekers in the United States.
Upon completing his Peace Corps service in 1970, Aaronson finished law school and worked as a Legal Aid attorney in southwest Colorado. When a professorship opportunity opened at the University of Colorado Law School, Aaronson knew it was time to return to his love of teaching.
As a Clinical Professor, Aaronson oversaw what he equates as a "residency" for law students. Alongside his students, Aaronson represented hundreds of asylum appeals, asylum claims, and Special Immigrant Juvenile Status (SIJS)* cases in front of the court. In these cases, the stakes are incredibly high as the consequences of losing include deportation. Each client is burdened with a tragic story of torture, oppression, imprisonment, etc. which they have to prove to the court as credible. Aaronson and his students would gather evidence to persuade both the judge and asylum officer that the client had a well-grounded fear of persecution if they returned to their country.
The cases were always challenging but incredibly rewarding. To this day, Aaronson has a wall full of framed photographs with his students and clients taken in the courthouse after successfully arguing a case. The clients commemorated in these pictures, once individuals desperate for asylum, are now lawful citizens of the United States.
Aaronson credits his passion for refugees, in part, to his perspective-altering experience in the Peace Corps. Moving to Iran pulled him out of his New England bubble and exposed him to cultures, values, and languages he had never fathomed. He believes that the Peace Corps volunteers develop a set of soft skills and knowledge which is well suited for a career in advocacy. (Aaronson has even used his Farsi while working with Iranian clients!)
Although now retired, Aaronson volunteers with refugees and immigrants as an English and citizenship tutor at the Asian Pacific Development Center in Colorado. He works with individuals and small groups to prepare them for the U.S. citizenship exam and improve their language skills. Through the Covid-19 pandemic, Aaronson has maintained his course load and given classes via Zoom.
Since the 1960s, Norman Aaronson has embodied the spirit of public service that Peace Corps hopes to instill in its volunteers. From his community in Iran to his refugee clients in Colorado, Aaronson has been a stalwart advocate for justice. Through his story, he hopes other Peace Corps Volunteers can understand their potential to advocate for and support marginalized groups here at home.
Sources:
Zoom Interview by Morgan King with Norman Aaronson on October 23, 2020
Oral History with Norman Aaronson by William Benjamin, published April 2019
* "These are kids that came across the border unaccompanied and are eligible under federal statute to apply for relief. In those cases, we've filed for custody. There's a relative here in the United States, like an aunt or somebody that would get custody of them. We go into Boulder District Court, get a custody order, and we ask the judge for a special order saying that it would be harmful to send them back to their country, where they were either abused or abandoned by one or more parents. Under the statute requirements, and if the judge agrees and issues those orders, then we would file petitions with the USCIS [U.S. Citizenship and Immigration Services] asking for special immigrant juvenile status. And if that's approved, then eventually you file a petition to adjust status, so that they can become a lawful permanent resident."
---