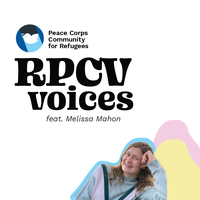 RPCV Voices: Clicking and Cycling to Self-Sufficiency
By: Melissa Mahon, RPCV Togo (18-20)
RPCV Voices is a blog series on the Peace Corps Community for Refugees website. The purpose is to allow returned Peace Corps Volunteers the opportunity to share their experience as refugees, work with refugee communities, or opinions about the refugee crisis. If you have a story to share, please email morganking296@gmail.com.
---
Refugees are an incredibly diverse population, coming from dozens of countries, practicing a variety of religions, and equipped with a wide range of education levels and trade skills. Refugees are resilient. They have overcome challenges leaving their country, waiting for resettlement, and throughout the resettlement process.
Once they arrive in the United States, they continue to face obstacles to achieve self-sufficiency and re-flourish in their new homes. After six months in the U.S., refugees must be self-sufficient. They are required to start paying their rent and their bills and repay the expenses of their plane ticket to the US. Self-sufficiency and employment are daunting challenges, especially with common barriers to technology, transportation, and language.
Alleviating refugees' barriers to success through bikes and computers is the objective of The Welcome to America Project in Arizona and the goal of my AmeriCorps VISTA service. Everyone in our community plays a role in welcoming refugees and supporting them with the tools to be successful.
Bikes and computers are critical tools that accelerate self-sufficiency for refugees. Most refugees deplete all their savings during the years, sometimes decades, that it takes to be resettled. Without the funds for a car, bikes enable refugees to explore their new communities, run errands more efficiently, and commute more quickly to work and school. The Welcome to America Project partners with Phantom Cyclist to collect donated bicycles, repair them, and share them with refugees.
Computers empower refugees to learn English online, build resumes, search for jobs, work remotely, attend classes virtually, and communicate with friends and family back home. The Welcome to America Project collaborates with PCs for Refugees to collect donated computers, wipe them clean of personal information, program them with resources for refugees, and share them with refugees.
During the first six months of my VISTA service, July 2020 – December 2020, I have worked with The Welcome to America Project to share 193 bikes with 132 refugee families and 133 computers for 123 refugee families. Each bike and computer represent a resilient refugee given a tool to help empower them to thrive and re-flourish in the US.
For example, in September, we shared a bike with a refugee from East Africa who was walking two hours to work each day. That same month, we shared a computer with a refugee from the Middle East who lost his job due to the pandemic, and he also could no longer attend his in-person English class because of COVID-19. The computer we shared with him allowed him to search for jobs and learn English online. Bikes and computers are life-changing in our refugee community.
Similar to Peace Corps service, collaboration is critical to successful AmeriCorps service for sustainability and long-term impact. On November 7, 2020, I coordinated a bike distribution event with The Welcome to America Project, where we shared 106 bikes with refugees. A mosaic of diverse entities made this event possible. A local nonprofit, Bob's Free Bikes, donated 50 bicycles, and CycleHop, a local bike share company, donated another 50 bicycles. The City of Phoenix donated over 50 bike helmets to keep riders safe. A Phoenix high school mountain bike team and a Phoenix bike shop repaired bikes and readied them for refugees. Resettlement agencies and a refugee-centered school identified families in need of bicycles. Finally, volunteers, including refugees from Bosnia and the Congo, helped distribute these bikes at a local apartment complex and at a local church. 106 individuals received a bicycle on November 7th, because a community of organizations and individuals used their talents, passion, and resources to empower refugees in our community.
At the Welcome to America Project, we have a guiding motto: "we are all a part of the welcome." Our bike distribution event on November 7th, exemplifies the diverse roles that our community plays to support refugees. As a returned Peace Corps Volunteer, I feel uniquely situated to play a role in the welcome. It is an honor and a privilege to continue cross-cultural work here in the United States. I enjoy my role as a conductor coordinating the talented efforts of community groups to get more bikes and computers to support our resilient refugee community as they re-flourish in the United States.
---