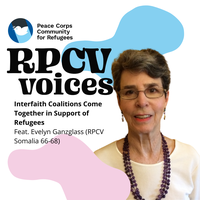 RPCV Voices: Interfaith Coalitions Come Together in Support of Refugees
By Evelyn Ganzglass (RPCV Somalia 66-68)
For the last 5 years I've had the privilege to co-lead an interfaith refugee resettlement effort in Montgomery County, Maryland. To date, we have supported 3 Afghan families and set up apartments for 9 families in conjunction with Lutheran Social Services (LSS), one of the Refugee Resettlement Agencies in our area. Our partnership now includes Bethesda Jewish Congregation, Bradley Hills Presbyterian Church, the Idara e Jaferia, the Maqamme Ibrahim Islamic Center and the Islamic Community Center of Potomac.
In working with LSS–at least in Maryland– volunteer groups choose different levels of support they will provide to resettling families. Our group chose to provide the highest level of support, which includes housing assistance and making connections with support services. Many refugees need to assistance to improve their English and/or address the lingering effects of trauma which volunteer groups can also support.
Our group volunteered to find suitable apartments for our assigned families as well as furnish and subsidizing the rent on a declining basis for a 12-month period. In some cases, we were required to co-sign the lease since the family doesn't have a credit history in the US.
We also supplemented selected support services provided by LSS, such as transportation, education, medical, employment, financial planning, mentoring and other supports, as needed by the family. Each family is unique, but they all need to find jobs to support themselves and learn to negotiate everyday challenges such as shopping and doing laundry.
Beyond all of this, we have found that one of our most important roles, at least at the beginning, is helping families get the refugee assistance, public benefits and social service supports to which they are legally entitled. Volunteers from our congregations provide financial and material resources and contribute a wealth of professional expertise–from social work to medicine, education, employment, law, advocacy and beyond to complement and supplement our public systems.
Our refugee support systems are under-funded, under-staffed and over-whelmed. Despite the best of intentions, those working within these systems are failing the people they are charged with helping become self-sufficient and productive members of our communities.
Our interfaith partnership is strengthening our cultural competence to meet families where they are and help them achieve self-sufficiency on their own terms. Volunteers provide culturally appropriate welcoming meals, artwork to hang on the walls and even prayer rugs for our apartment set-ups. Together, we discuss how to help families adapt to the many cultural differences they encounter in the U.S.
In addition, volunteers from the mosques welcome the families to their faith communities, introducing families to Halal butcher shops and grocery stores, providing modest clothing, as needed and access to Farci and Dari speakers.
Beyond the help we are providing refugees, these partnerships also are enriching each of us who have been involved through the deep friendships we have formed and the increased appreciation we have gained of our shared humanity. Does that sound a lot like what you got out of Peace Corps service? Not surprisingly, several of our most active volunteers are RPCVs.
I urge individuals and state and local NPCA affiliate groups to get involved in refugee resettlement efforts in your areas. Doing so will do some good; good for those you serve and good for yourself and your group. As a first step, find out who the refugee resettlement agencies are in your area . Through them or other community contacts, identify state and local groups with whom you may be able to partner in setting up apartments, supporting a family at whatever level seems doable for your group.
Advocate for improved funding and policies to support resettlement efforts and passage of the Afghan Adjustment Act that would provide a path to permanent residence for Afghan evacuees who entered with humanitarian parole. Currently, these paroles only are allowed to stay in the United States for two years.
Stay plugged in the PCC4Refugees for up-to-date advocacy and volunteer opportunities to support refugees nationwide.
---