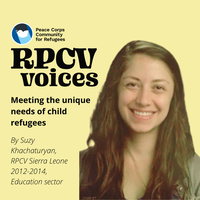 RPCV Voices: Meeting the Unique Needs of Child Refugees
By: Suzy Khachaturyan (RPCV Sierra Leone 12-14)
---
Refugee resettlement is inherently a challenging, sometimes even traumatic, process during which refugees begin their lives in their country of resettlement. During the early weeks and months of the process job skills are learned, health needs are assessed, children are enrolled in school, and English learning takes on heightened importance.
Refugee adults take on most of these tasks. However, children frequently play a critical role in supporting their parents. This happens because children tend to learn the language more quickly than their parents through the language immersion they experience at school and because children tend to learn languages more quickly than adults. The critical role that children take might include helping at the grocery store checkout counter, interpreting communication from school and at parent teacher conferences, as well as any public interaction that requires English and/or cultural knowledge – that is, roles children don't typically don't play when their parents have fluency, or even proficiency, in the dominant language that's spoken.
The critical skill of English proficiency, even the level acquired in a short time by a young child, can prove to be a major asset for a refugee family, but it can come at a cost. By serving in roles that adults typically serve, child refugees risk missing out on the opportunity to be children, free from responsibility and worry. This is known in academia as "early adultification".
Supporting the unique needs of child and adolescent refugees, and the U.S.-born children of refugees, is critical. These children, and to a large extent children of new immigrant families in general, face a myriad of unique challenges in their school, home, and community lives. But the good news is that the adults in their lives—parents, relatives, teachers, mentors, and friends—can support them as they navigate the challenges inherent with childhood and adolescence in addition to the challenges unique to their family.
This support can take on many forms, depending on what role you play in your community. Expressing interest in the language(s) spoken in their home and asking what foods their family makes at home and encouraging them to talk about it can prove to be the powerful reassurance they need. You might ask about their family's traditions, like what holidays they observe and how they mark the occasion. By asking questions (respectfully) and expressing genuine curiosity, refugee children learn that their family's culture, language, food, and history are important and have inherent value. It encourages them to learn it on their own by asking questions at home, reflecting on it, and identifying potential conflicts between their family's culture and the dominant one in their new community. It also demonstrates to them that it's okay, even good, to be different, that their family's culture is something to embrace and be proud of. Because at the end of the day, children want to fit in and be accepted, and that's difficult to do when your home life is, or seems, completely different from that of anyone you know. Refugee children need assurance that their family's cultural identity/identities may make them different but that difference is respected and valued.
Refugee children are in many ways more susceptible than adults to the pressures of assimilation, whereby family culture is lost in favor of the dominant culture of their new country or community. Instead, integrating into the new environment by preserving their family's culture within the larger society, much like pieces of a puzzle coming together, where there is respect and acceptance of cultural differences is what enriches and strengthens communities. Refugee children need additional support and nurturing from adults and children alike, both from their family and in their new community, to be able to explore, understand, and accept their own multicultural identities. Schools therefore have the potential to provide a great refuge for children while they gain familiarity with their new community, by providing a sense of safety and stability in the face of major upheaval and potential trauma they may be grappling with.
Teachers, school administrators, school counselors, social workers, and other school staff play a critical role in the acculturation process for refugee children, and this can have a transformational impact on the whole family's resettlement experience by allowing them to build a support system with the school, get connected to resources in the community, learn coping skills, begin to build social capital, and more.
If you don't serve in of these roles, however, there are still many opportunities to support refugee children during the resettlement process and well beyond. By serving as a family mentor, youth volunteer, or similar position with your local resettlement agency or other refugee-serving organization, you can play a key role in the child and family's life in much the same way.
The best way to do this is to connect with a refugee resettlement organization in your area, if you haven't already. If one is not near you, or if you want to take an additional step, there is also a great need for support well after the resettlement process is over, in which case other nonprofit support services typically take over to provide ongoing, typically area-specific services such as housing, or employment assistance. If you're unfamiliar you can start here to find organizations in your area.
Suzy Khachaturyan is a Returned Peace Corps Volunteer (Sierra Leone 2012-2014), former child refugee, and long-time volunteer in various refugee and immigrant communities.
---