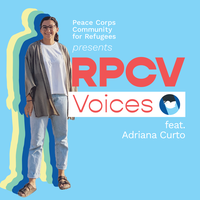 By Adriana Curto, RPCV Morocco
RPCV Voices is a blog series on the Peace Corps Community for Refugees website. The purpose is to allow returned Peace Corps Volunteers the opportunity to share their experience as refugees, work with refugee communities, or opinions about the refugee crisis. If you have a story to share, please email morganking296@gmail.com.
---
I told myself as I was leaving Morocco that the relationships and community ties, I worked so hard to form during those 27 months wouldn't represent a practice of the past. When I returned home to New York, I wanted to get involved in my own community. Growing up an hour outside of New York City, I often looked to the big city as the heart of opportunity. My Peace Corps experience prompted me to think more local.
When I returned home from Peace Corps to uncertainty about my next steps, I reached out to an organization called Neighbors for Refugees. NFR is a nonprofit in Westchester County, NY that advocates for and works directly with refugee families to provide them necessary services, resources, and community support to thrive in their new homes. Holly Fink, co-Founder of NRF, explains the organization is volunteer-led and brings together like-minded individuals who really care about helping refugees.
Recently, I helped the Neighbors for Refugees team with their celebration of "Welcoming Week", a global initiative of organizations and communities bringing together migrants, refugees, and long-time residents to build a stronger, more inclusive community. What better way to bring people together than through food?
Neighbors for Refugees partnered with FEZ Turkish Cuisine, a local small business in Mamaroneck, NY, to organize the event "A Taste of Home". The fundraiser offered community members the opportunity to purchase an authentic meal by employing refugees and immigrants to cook their favorite dishes from Turkey, Lebanon, Afghanistan, and the greater Middle East. Two women from Afghanistan, Wahida and Mahnaz, cooked over 400 delicious, 4-course meals like Afghani Zarishk Palo, Fattoush Salad, Eggplant Moussaka, and Turkish lamb kebabs.
Each customer also received a homemade mask made by a Syrian member of the community, Amina, who arrived in the U.S. two years ago and has started her own business called "Amina's Alterations". During the pandemic, NFR partnered with Amina and seven other seamstresses, making over $14,000 and producing over 8,000 masks for health workers all around the U.S. This year's "Taste of Home" event brought together a range of community members, sharing their strengths in cooking, organizing, and activism, but all of whom who share a deep belief in the value of a diverse, multi-cultural U.S.
Neighbors for Refugees continued "Welcoming Week" by organizing a Legal Workshop on September 15th, hosting two immigration lawyers from the City Bar Justice Center, to talk about the legal rights of refugees and asylum seekers. The event covered a range of informative topics such as collateral benefits, family reunification, Lawful Permanent Residence, and naturalization. The two-hour event was translated into Arabic by NFR longtime Board Member, Rania Saghir.
NRF also partnered with volunteer-led organization "Welcome Home Jersey City" to host author Jessica Goudeau in talking about her new book "After the Last Border: Two Families and the Story of Refuge in America" through Zoom.
"Welcoming Week" not only celebrated the strength of welcoming refugees and immigrants into the community, but also provided economic opportunity to small businesses and new community members in a time when support is greatly needed. As the week came to a close, I learned that the work we did as Peace Corps volunteers in our host countries – like relationship-building and implementing community-driven initiatives – can happen right here at home.
We have a responsibility to advocate for U.S. leadership in supporting, welcoming, and protecting refugee and immigrant communities and – as unconventional as it sounds – you can make that happen right from your computer at home. Let's get going, because we have lots of work to do!
To learn more about the global refugee crises and how to get involved: https://www.hias.org/get-involved/resources
More information about Neighbors for Refugees: https://www.neighborsforrefugees.org/
To watch the discussion about the legal rights of refugees and asylum seekers: https://www.youtube.com/watch?v=2WcR48oAfk0&feature=youtu.be&fbclid=IwAR3F70KX_9HnWYuYv9jYCuNZS7B1JPj772yjJ4n532lTa5IJJdenjho5qR0
Check out this fact sheet on legal rights for refugees/asylum seekers: https://drive.google.com/file/d/1oUqOacV0pB1kWFocduB2ou9B--cmLNCQ/view?usp=sharing
Adriana Curto was a Peace Corps Youth Development Volunteer in Southwest Morocco from 2017-2019. You can learn more about her service and previous experiences working with refugees on her website: https://www.adrianajudecurto.com/. Any questions feel free to reach out to: adrianajudecurto@gmail.com
---