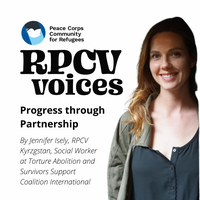 By: Jennifer Isley (RPCV Kyrzgstan)
---
Sharing your experience with someone who needs it is the most amazing thing you can do in your life. To help other people, this is something perfect because you are going to change their life, maybe forever. You can see them achieve their goals, and this will give you a very good feeling about yourself too."
- Khalid*, TASSC Survivor
Like so many people, serving in Peace Corps changed the course of my life. I came to Kyrgyzstan believing I would pursue a career in archaeology and left certain I should become a social worker. Today I work at the Torture Abolition and Survivors Support Coalition International, or TASSC, in Washington, DC. We support survivors of torture from all over the world, most of whom are applying for asylum here in the US. It's a wonderful organization serving amazing people.
One thing that defines nearly every survivor we work with is incredible resilience and drive to move forward, despite the unimaginable. This drive often manifests through setting professional and career related goals here in the US. Unfortunately, a second defining feature for many is the realization that all too often these professional goals begin to feel out of reach. Do you remember what it was like when you first arrived in your Peace Corps country? Everything from local transportation to shopping felt overwhelming, never mind trying to figure out how to find a job and a career.
Enter TASSC's Professional Mentorship Program. We developed this program to pair survivors with professionals who want to help in setting career goals, navigating the US job market, networking, and getting back into professional fields. This kind of support makes a huge difference to survivors. Instead of forging ahead alone, they have a partner to provide encouragement, support, and knowledge along the way.
To better understand why this program matters I asked a TASSC survivor, Khalid, to provide his perspective. A development specialist with extensive experience in conflict analysis and project management in post-conflict countries, Khalid has almost 10 years of experience working for international organizations in post-conflict contexts. Now living in the US with an open asylum case, he hopes to gain even more experience supporting stability and peace building efforts around the world. Despite being highly accomplished, he too felt the burden of breaking into a foreign job market.

What were your expectations for what it would be like to find work in your field here in the US? Did reality match these expectations?

Khalid: When I came, I thought it may be easier to find good opportunities here, but I found out it's not easier. One, when you come here it's not easy to make a connection with people. There is no one to walk you through it, to help you find where to network. I had to figure this out by myself. There are also many differences in resumes, interview, and steps you need to take to get a job. One of the biggest challenges that I faced in the beginning was how to introduce myself and my professional experience in job interviews, because I did not know the professional method in interviews in Washington. For example, how to write a CV, job sites to use, and how to answer questions in interviews. The language was also one of the biggest challenges. As an immigrant far from my family, it was very difficult to study, work and do everything myself at the same time without losing hope.


What made you decide to participate in TASSC's Professional Mentorship Program? How is the Professional Mentorship Program helping you address challenges and reach your goals?
Khalid: You can work hard and you have goals, but when you feel it's closed and you can't find a way, and you are stuck in a situation for three, four years and you cannot take even one or two steps towards your goals, you feel like giving up. Disappointment. You don't know how to start, it's a very hard time. Having a mentor can give you hope. At least there is someone who is trying to help you.
When I met my mentor, he asked me where I wanted to start and I told him, and he said OK good let's start there. We met in person, we organized a schedule through email and then we shared the TASSC forms at the first meeting. I explained everything to him, and he immediately got everything because he had the same background. He gave me tips on my resume, we talked about Think Tank groups in the DC area, and we plan to practice interview skills.

Certainly, finding someone with great experience in my field and volunteering to help me develop my professional abilities to achieve my goals is one of the most important advantages. With my mentor, it has been more than my expectation. I thought when I was going to meet someone, he would have good experience in DC, but he already worked in my region for many years and had that knowledge.
What qualities do you think a professional mentor needs?
Khalid: Knowledge in DC, a good network, willingness to help, and experience in your area – this makes things easier for them and for you both. It is also good that he has enough experience about your work background or that he has worked in an environment similar to the one in which you worked. In my case, he was very useful, as he worked in a country very close to my own in North Africa. The situation is very similar in terms of tribes, civil war and general culture. He understands very well what I'm talking about, what I'm feeling, and what background I come from. In addition, there is a common friendship between us and a good relationship with it, this helped to break the ice quickly and build trust.
TASSC survivors are looking to partner with like-minded individuals. The ones who have travelled and have learned other languages and who may have the tiniest understanding of what it's like to be thrown into a totally unfamiliar environment. The ones who understand how important it is to receive the support of your local community as you strive to reach your goals. Who better than RPCVs to step up in meeting this need? Partnership in service of progress is not an unfamiliar concept to us. This volunteer spirit is part of who we are, staying with us long past our Peace Corps service.
To learn more about the Professional Mentorship Program and how to work with TASSC survivors, visit us at https://www.tassc.org/mentor.
*Name has been changed to protect identity
---