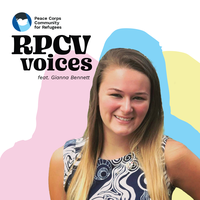 By Gianna Bennett, RPCV Panama
RPCV Voices is a blog series on the Peace Corps Community for Refugees website. The purpose is to allow returned Peace Corps Volunteers the opportunity to share their experience as refugees, work with refugee communities, or opinions about the refugee crisis. If you have a story to share, please email morganking296@gmail.com.
---
Almost immediately after celebrating my first year with Peace Corps Panamá, I was on a plane back to the United States along with the 7,000+ other PCVs evacuated due to COVID-19 in March 2020.
It was devastating to leave Panamá and not finish my full term with the Peace Corps. However, I found a new role and purpose at Americana Community Center in my home city of Louisville, Kentucky.
Before the Peace Corps, I had volunteered with a women's artisan group called Fiberworks which fell under Americana's umbrella of projects. Now, two years later, I am proud to work alongside a new community of Fiberworks artisans at Americana.
Introduction to Americana Community Center
In the South End of Louisville, Americana Community Center brings neighbors of all cultures and creeds together. Americana, established in 1993 by Edgardo Mansilla of Argentina, aims to bridge the gap between surviving and thriving for the refugee, immigrant, and underserved populations of Louisville.
Every year, 5,000+ people from over 100 countries participate in Americana's holistic programming including after-school support, summer camps, family coaching, counseling, health center, tax assistance, ESL classes, computer literacy, meal distribution, community garden, and more. Over the years, Americana has allowed space and resources for new entities to develop such as the Survivors of Torture Recovery Center and the Fiberworks project.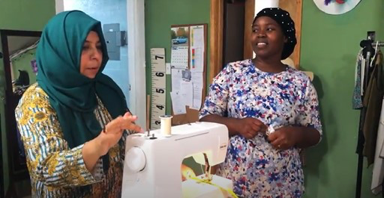 Introduction to Fiberworks
Fiberworks is a women's arts group designed to support the positive integration of refugee and immigrant women into the Louisville community using a common interest in the fiber arts: sewing, crocheting, and reinventing textiles.
Participants help one another develop confidence, English language proficiency, skills, and resources necessary to identify and pursue goals for themselves and their families as they adapt to their new home in Louisville. The women market and sell their handmade products such as clothes, purses, pillows, cotton masks, and Derby hats at various coffee shops, bookstores, local festivals and fairs, and on their Etsy shop (updates coming soon).
The Women of Fiberworks
Fiberworks is women-centered and women-lead, serving as a place to earn an income as well as a place for women to gather. Although Fiberworks began as space for refugee women from Iraq, it has since expanded to involve women from countries all over the world including Afghanistan, Pakistan, Iran, Burundi, Belgium, Cuba, Brazil, and Mexico.
The circle is composed of mothers, students, and artists who share a space to learn about their unique experiences immigrating to the United States from their countries of origin. "I enjoy Fiberworks because I get the chance to explore my hidden abilities to create and share new ideas and styles," says Fiberworks Coordinator Rameen from Pakistan.
Participants enjoy the social outlet that Fiberworks provides. "I enjoy learning and making friends," says Lydia, a participant from Burundi. Aisha, a participant from Iraq, agrees saying "I love talking with the other women who come to Fiberworks."
Women in the circle also take pride in serving their community and transforming their own lives. "I love to learn new things to help me in the future to change my life," says Samira, a participant from Burundi, "I like to help others, it is my dream goal to be a helping hand."
Fiberworks Response to COVID-19
The Cotton Mask Project was born out of the COVID-19 pandemic. Americana's Programs Director Emilie Dyer and Fiberworks' Coordinator Rameen proposed this initiative after there were many news stories of hospitals and frontline response workers lacking the necessary personal protective equipment to do their jobs safely.
With that, Rameen asked the participants of Fiberworks if they would be willing to donate their time at home and skills to sew cotton masks for frontline workers. It was an overwhelming "YES" from the circle. The original two-layer, pleated mask design was recommended by Elena, a participant from Belgium who is a doctor in her home country.
Since the start of the pandemic, Fiberworks seamstresses have completed over 4,000 handmade masks to support the cause of gathering vital resources for medical staff and frontline workers. Fiberworks masks have been donated to the frontline workers at University of Louisville Hospital, Louisville Metro Office of Resilience and Community Service, and Kentuckiana Regional Planning & Development Agency, as well as to partnering nonprofits throughout Louisville.
To find out more about the products made by Fiberworks, follow this link available for purchase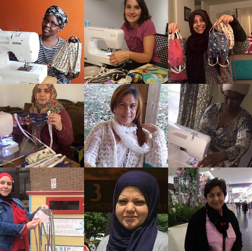 Fiberworks is a strong example of encouraging entrepreneurship amongst women and refugee communities. The Americana Community Center is proud to share the stories and work of these incredible women.
Instagram: @americanalouisville | @americanafiberworks
Facebook: Americana Community Center Inc.
Twitter: @americana_cc
*Names of Fiberworks participants have been changed for privacy.
**Photos used with permission from the subjects.
---