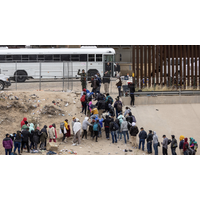 We only have until March 27 to register our opposition to the administration's proposed rule creating a new asylum transit ban—one of the most restrictive border control measures to date. The new rule, published on February 23, will create a "rebuttable presumption" of ineligibility for asylum seekers who cross the border irregularly or who pass through a third country on their way to the U.S. without seeking asylum in that country.

The administration is required to consider and respond to all comments about the new rule that are submitted by the public before March 27. Given the administration's stated expectation that the proposed new rule will be in force before the expiration on May 11 of the COVID-related Title 42 border expulsion policy, immigration-justice experts are raising concerns that the administration will not fulfill its legal obligation to consider seriously all comments submitted by the public before the rule is finalized.

"Not only is the new asylum transit ban illegal and immoral, if put into place as proposed, it would create unnecessary barriers to protection that will put the lives of asylum seekers at risk," said Jeremy Robbins, the executive director of the American Immigration Council. "For generations, the United States has offered a promise that any person fleeing persecution and harm in their home countries could seek asylum, regardless of how they enter the United States. Today's actions break from prior promises and threaten a return to some of the most harmful asylum policies of the previous administration."

Karen Sullivan, director of advocacy for the Catholic Legal Immigration Network (CLINIC) said, "The countries that migrants most commonly pass through to reach the U.S. lack the full and fair asylum procedures necessary to provide protection to those facing persecution. If this rule goes into effect, many asylum seekers will have nowhere to turn."

The American Immigration Council recently posted an excellent webinar about the proposed rule. Additionally, CLINIC will host a webinar about the new proposed rule on Tuesday, March 14, at 2 p.m. ET. They will discuss how we can stand with asylum seekers by submitting comments to this proposed rule, and they will share comment-writing and outreach strategies.

The complete text of the new rule — and the link for making comments — is here.
---