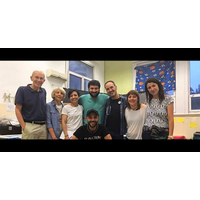 By Patricia Nyhan
While some 60,000 migrants and asylum-seekers fill state-run refugee camps in Greece, an estimated 3,000 live illegally in about 15 abandoned buildings in Athens called "squats".
Organized by activists and anarchists on a communal model, the squats have been tolerated by the public as a humane alternative to what some human rights groups view as squalid and dangerous camps. In May-June 2017, police raided several squats, but the government stopped short of a total crackdown.
(See "Anarchists Fill Services Void Left by Faltering Greek Governance," by Niki Kitsantonis, New York Times, May 22, 2017.)
Volunteers from many countries arrive at the squats on their own or are sent by organizations. Judy and David Smith joined them in May. Former Peace Corps volunteers in Niger (2010-2011) and Armenia (2011-2013), they felt compelled by the world refugee crisis to go to a squat to see how they could help. They share their reflections on the experience below in separate accounts, edited by Pat Nyhan.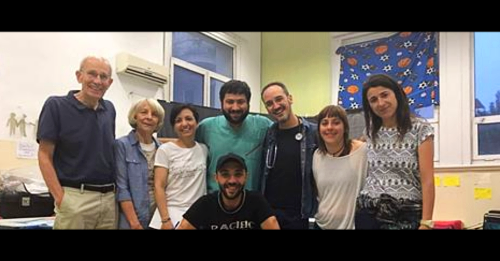 The photo is of David and Judy (at left) with a Spanish medical team, a doctor from Norway and an Arabic translator, in the squat clinic.
The 5th School Squat
Judy Smith
We felt an urge to DO something, to go, to help. We met a group of women in Wilmington, NC, where we live, who had established Humanity Now: Direct Refugee Relief, a fund-raising organization. All money raised is spent for immediate needs of refugees. They encouraged us to go to Greece.In May, 2017, Dave and I traveled to Athens and spent the month volunteering in the 5th School Squat, which houses close to 200 refugees from Syria, Afghanistan, Egypt, Iran, Iraq, Palestine and other violence-torn countries.
A squat is an abandoned building taken over and illegally inhabited by refugees who cannot fit into camps or other housing situations. The Greek government does not intervene because they would be homeless otherwise. The squats are usually organized by activists or anarchists whose sole goal is to assure a safe place for those who have nothing. The refugees receive no cash cards from NGOs as refugees in the camps do. They get food provided through donations from around the world.
Living is communal, with sometimes 3-4 families sharing one room with individual areas separated by blankets hung on ropes. Various nationalities often live in the same room or in close proximity. Arabic, Farsi and other languages are spoken, but there are never enough translators. Meals are often communal and dependent upon donated food. People sleep on mats or old mattresses. Personal belongings and furniture are minimal.
There were many young children in our squat and few organized activities. However, a group of young American college students thankfully arrived as we were leaving and began to engage them in activities to fill their days. A few school-aged children attended Greek schools.The adults were busy trying to gain asylum in Greece or to get documents to travel to another country. However, wait times are lengthy, creating stress, despair, frustration, depression and sometimes suicide attempts.
As a retired nurse, I volunteered in a small primary care/triage clinic in the squat. All medical providers were volunteers. Dave carried out multiple tasks in our squat and in others nearby, plus helped re-organize the clinic room. Other volunteers participated in outreach projects for the homeless refugee population, sorted and distributed donated items in a warehouse, taught language or arts and crafts, or prepared meals. Independent volunteers in addition to those associated with an organization tried to meet the pressing needs.
People were touched that we'd come from America to help them. We left understanding that we did not change the overall situation, but we brightened a few moments in lives otherwise bleak and without known futures.
David Smith
My wife Judy and I volunteered for the purpose of finding out if it makes more sense to volunteer time or give money to refugee relief. If you are a dentist, female ob/gyn, family physician, mental health professional who speaks Arabic or Farsi, translator of Arabic or Farsi, or college student or other person willing to teach children English and engage in fun activities, you are worth your weight in gold. By all means, go. Other volunteers may or may not be needed.
If you decide to go, do your homework and have an idea about what you might do to help. It is difficult for squats and camps to accommodate volunteers who show up without prior planning. Check out the Facebook page Athens Volunteers Information and Co-ordination Group for updated site needs. If you have money of your own to spend, it's an enjoyable experience.
With this said, it would probably be more efficient for us to donate money. Judy has a specific skill as a retired nurse and sees that she could contribute if she plans ahead as to where to volunteer. She may return to Greece, while I will donate money in support of what I believe to be important.
If you donate to an organization, be careful where you give. A lot of it may be spent on travel, living expenses and overhead. Do your research.
Suggestions about where to donate money:
1. Individual doctors and nurses who pay their own travel and living expenses and donate vital medications.
2. Doctors Without Borders and Doctors of the World. Some of their donations pay for refugees as translators or community workers and for administrative costs and travel, medications and other supplies.
3. Humanity Now: Direct Refugee Relief. They raise funds to send to Greece with organizers who purchase what is needed at the time they visit. All donations go directly for refugee support.
---