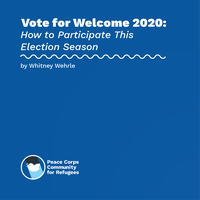 Whether you are a novice or experienced advocate, HIAS' new campaign makes it easy to act on behalf of refugees and asylees this election season.
Nearly fifty individuals participated in last week's webinar promoting the "Vote for Welcome 2020" campaign. HIAS and PCC4Refugees' shared goal is to increase bi-partisan support for refugees and asylees this election season by empowering advocates to engage their local congressional candidates up for election in the US House and Senate.
Rebecca Kirzner, Senior Director of Grassroots Campaigns, emphasized that for anyone interested and willing to assist in supporting refugees and asylees, "We want to work with you; we want to help you."
"The most critical way for refugee advocates to engage right now is to make sure that the next wave of people elected understand refugee issues; it [your participation] is as big or as small as you want it to be," said Kirzner.
With 26 million refugees and 4.2 million asylum seekers globally, the world's refugee crisis is the worst in recorded history. This fiscal year's refugee admissions ceiling, officially the Presidential Determination, was set at an all-time low of 18,000, the lowest of the United States Refugees Admissions Program's (USRAP) 40-year history. For FY 2019, the number of refugees admitted matched the admission's ceiling, both at 30,000. Data from the Migration Policy Institute shows a sharp reduction of the admissions ceiling by the Trump administration. Previous years, FY 2014-2016, saw annual ceilings ranging from 70,000 to 85,000 with near matching admissions.
Though still legal to seek asylum, both under US and International law, in response to COVID-19 the Centers for Disease Control authorized US Customs and Border Protection to expel individuals who are without documentation at the border as they are possible "vectors" of the disease. This authorization bars potential asylum seekers from access to the US asylum system. Additional non-COVID related legislative proposals are currently seeking further restrictions to the asylum claims process.
Given the extreme restrictions placed on refugees and asylees, it is more important than ever to act this election season. By encouraging candidates to make their support for refugees and asylees public, candidates can be held accountable after the election, something that HIAS strategizes will help ensure future policy change.
Take the first step by staying informed and sign-up for the "Vote for the Welcome 2020" campaign.
After signing up for the campaign, HIAS suggests familiarizing yourself with your district's candidates and their platforms. A quick and efficient way to verify your local candidates for this election cycle is via Ballotpedia, which provides a sample ballot for your district after entering an address and zip code. While districts will differ, all 435 House seats are up for election this year, as well as 34 of the 100 Senators. Eleven states will also hold gubernatorial elections this cycle.
Once you have identified your local candidates, HIAS has outlined four main tactics for advocating now through November:
1. Setup A (Virtual) Meeting
Highlighted by the campaign as the strategy with the highest impact potential, this option may take the most prep work. Schedule and prepare for the meeting using HIAS' talking points and be sure to maintain the relationship; encourage the candidate to officially support refugees and asylees.
2. Ask Questions in Virtual Events
This high-impact option can be used when participating in townhall meetings, Reddit AMAs, or other online debates. HIAS suggests preparing and coordinating your questions with other participating advocates prior to the event to increase effectiveness.
3. Invite A Candidate or Campaign to Attend Online Events
Invite a local candidate to partake in refugee or asylee-centered informational events, such as the HIAS@home program.
4. Engage on Social Media
Potentially the most convenient way to advocate, utilize social media platforms to tweet and post positive stories about refugees and asylees on Twitter, Facebook, and Instagram. Follow and retweet HIAS' campaign.
For those able to dedicate additional time to this campaign, HIAS is calling for District Captains. As a District Captain, advocates commit to at least one substantial interaction with a local candidate and take on the responsibility to follow-through with this candidate. For those interested, HIAS will provide resources and check-ins for additional advocate support. You can sign-up as a District Captain through the campaign's sign-up form.
Through this campaign and in partnership with advocates like you, HIAS asks candidates and representatives to:
1. Set the 2021 FY's Presidential Determination at 100,000
2. Rescind all refugee bans
3. Provide funding for refugee in-country resettlement and the overseas processing of refugees
4. Support policies that uphold the right to seek asylum
5. Call for rescission of policies that inhibit access to the US asylum process
6. Seek and support alternatives to detention
7. Permanently end all forms of family separation
8. Call for expansion of access to legal counsel and Know Your Rights presentations
You can learn more about HIAS' "Vote for Welcome 2020" campaign and find an extensive advocate toolkit, including a guideline for contacting candidates, talking points, and prepared social media statements here.
For additional information and questions, HIAS staff can be reached at: takeaction@hias.org
HIAS does not support, endorse, or oppose any candidate.
---