By Tony Agnello
Guest Blogger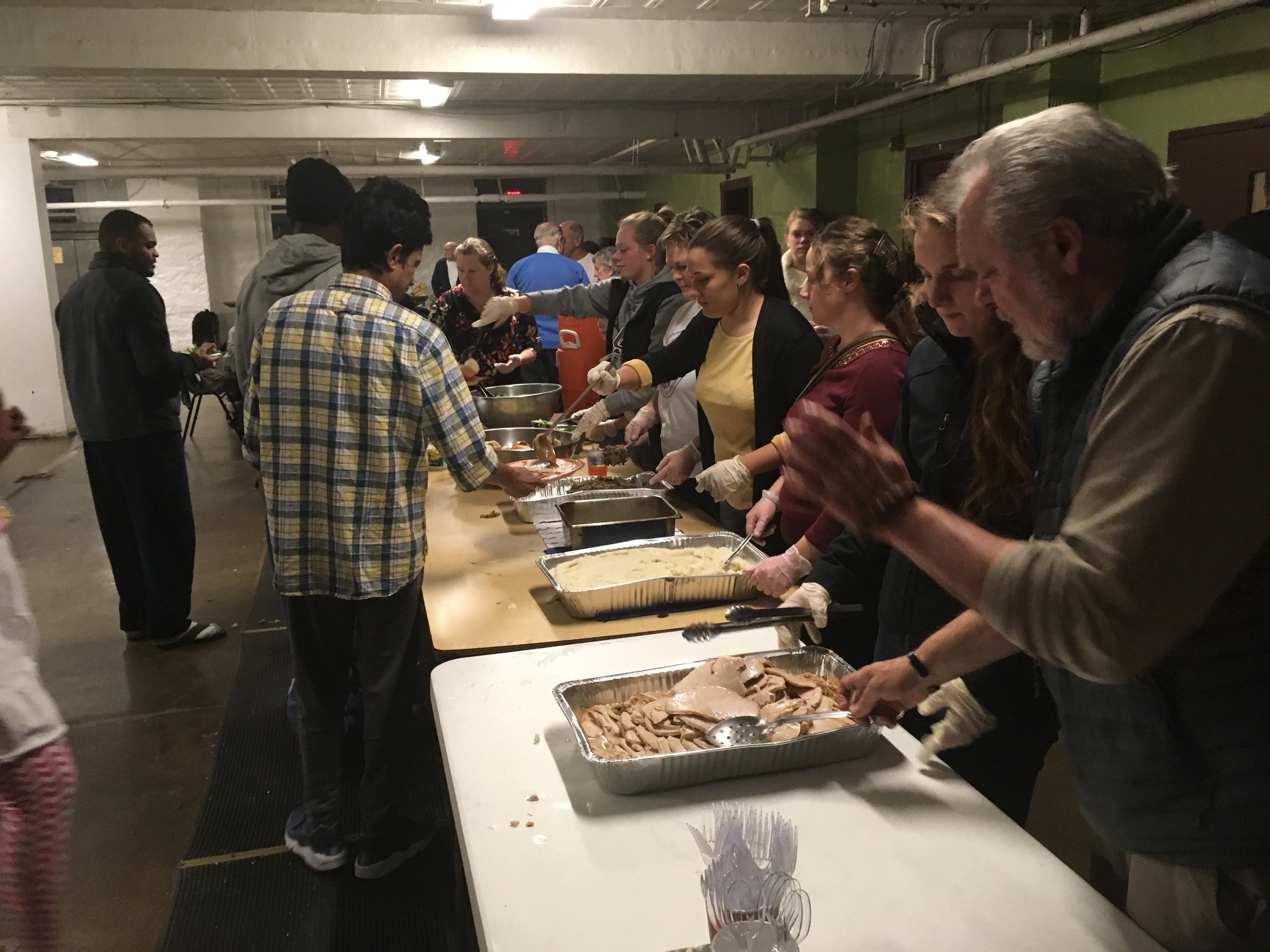 Members of the Returned Peace Corps Volunteers of Buffalo along with Friends of Afghanistan's 2016 Starfish Award recipient, Orchard Park High School Educational Outreach, served Thanksgiving dinner to 150 immigrants and asylees at the Vive Refugee Center in Buffalo, NY, on Nov. 19. Tony is on the right, serving.
The Peace Corps Alliance for Intercultural Understanding is one of the newest affiliates of the National Peace Corps Association. Its mission is to "educate, advocate and organize" around the enduring principles of Peace Corps.
The Alliance is dedicated to promoting the ideals of President John F. Kennedy, who proposed establishing a corps of young American men and women who, "…would be willing to serve their country and the cause of peace by living and working in the developing world." Through Peace Corps' Third Goal, volunteers pledged that upon returning to the U.S., they would "help to promote a better understanding of other peoples and cultures on the part of our fellow Americans."
The Alliance is dedicated to offering Returned Peace Corps Volunteers (RPCVs) creative new opportunities to fulfill our pledge and serve as intercultural ambassadors of goodwill.
The seeds of the group were sown in the lead-up to the 55th anniversary Peace Corps Connect Conference in Washington, D.C., last September. Afghanistan's Ambassador to the United States, Dr. Hamdullah Mohib, had inquired about what the Friends of Afghanistan, a well-established NPCA affiliate, was doing to oppose the rising tide of Islamophobia exploited during the political campaigns. At that time we had no concrete answer.
Less than a month later, a response began to organically grow within the community of RPCVs who had served in nations with majority Muslim populations.
At the NPCA affiliates meeting held at the conference, Millard Mott, president of the Friends of Pakistan, stood up and implored the groups' leaders to jointly address the rise of Islamophobia in America. Within weeks, leaders representing volunteers who served in Afghanistan, Iran and Pakistan began engaging in an extended organizational discussion about the role and nature of a Peace Corps anti-Islamophobia effort that RPCV groups representing majority Muslim nations and regions could support.
One of our conclusions was that while we would remain true to our individual Peace Corps experiences as respected and welcome guests in Muslim cultures, we would address Islamophobia not in isolation, but more broadly as a symptom of xenophobia and a lack of intercultural awareness. Consequently, we remain firmly committed to promoting dialogue that reveals the incompatibility of bigotry, racism, antisemitism, Islamophobia and all forms of discrimination with traditional American values.
We seek to establish a broad intersectionality among NPCA affiliates. Join us in a renewed effort to "educate, advocate and organize" in partnership with NPCA country of service, geographic, regional and cause-related affiliates such as Peace Corps Community for the Support of Refugees.
In another promising alliance, we are developing partnerships with Rotary International. We project that as influential RPCV organizations begin to work in coordination with Rotary and local school and community groups, a pathway of intercultural understanding will begin to emerge.
Helping a refugee or other immigrant family settle in your community, organizing an intercultural dinner, or promoting an international music group in your area all have potential to lead us from our current state of division to a place where we will reaffirm that all Americans are members of "one nation, under god, indivisible," and that we will offer "liberty and justice for all."
We invite all concerned RPCV groups and like-minded individuals to learn more about us by visiting our website: www.pcaiu.org. Click on What We Do and then Projects to find resources from Tim Resch, President of the Friends of Morocco, with ideas to address Islamophobia among the 60 percent of Americans who have never met a Muslim.
Tony Agnello is co-founder of Peace Corps Alliance for Intercultural Understanding and longtime president of Friends of Afghanistan. He served in Samangan, Afghanistan, 1972-1975.