Overview
As we face the largest refugee crisis in decades, with over 65 million people displaced around the world, it is critical for individuals and communities across the United States to take action. One of the most meaningful ways you can do that is by developing a relationship with your elected officials, educating them about refugees, and urging them to support positive policies. It is important that policymakers at the national, state, and local level understand that 1) their constituents care about refugees, and 2) that refugees are their constituents—they live, work, and contribute to their communities, obtain U.S. citizenship, and vote.
When elected officials hear from their constituents, they act accordingly. Establishing and nurturing relationships with your legislators (Senators, Representative, Governor, Mayor, County Executive, State Legislators, etc.) is critical to enacting legislation that supports refugees and preventing harmful policies from being enacted. The most important part of any advocacy action is storytelling—a story about your personal connection to refugee issues, a story about how your community welcomes refugees and other newcomers, or a story about the positive contribution refugees make to your community.
Background/Context
The United States has a long history of providing protection and assistance to people facing persecution and fleeing violence. In the aftermath of World War II, Congress enacted the first refugee legislation, providing refuge for over 650,000 displaced Europeans. Since refugee resettlement was codified in the Refugee Act of 1980, the U.S. has provided safety and new beginnings to over 3 million people through its public-private partnership model. The U.S. government also provides life-saving humanitarian assistance and protection to refugees around the world, both those who live in camp settings and in urban centers.
In recent months and years, we have seen a growing opposition to refugee resettlement. Individuals and organizations often utilize anti-refugee, anti-immigrant, and anti-Muslim rhetoric to engender fear and foster hostile atmospheres for refugees. More than 80 bills have been introduced in the U.S. Congress that would dismantle or significantly damage the U.S. refugee resettlement program. In 2015, 31 governors publicly opposed resettling Syrian refugees and over 50 anti-refugee proposals were introduced across 19 state legislatures.
Now it is more important than ever to support refugees by building relationships with legislators, urging them to support and protect refugees. We must also urge our elected officials to oppose any legislation that seeks to halt or restrict resettlement or funding for any group of refugees.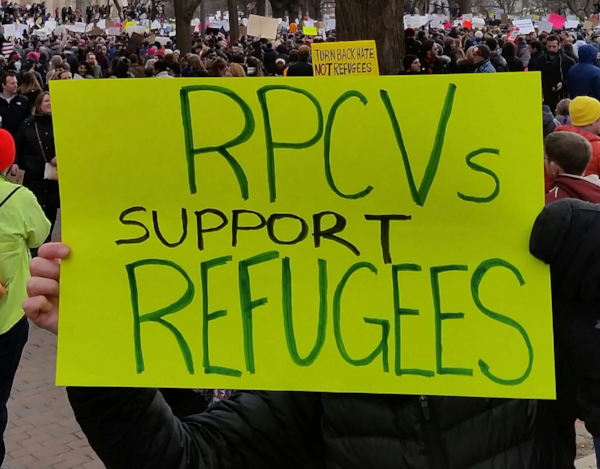 Learn How To Advocate Around Refugee Issues
To learn more about how to make changes at the local and state levels please use THIS TOOLKIT created by Refugee Council USA.