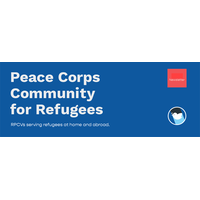 Current News and Information from Peace Corps Community for Refugees
AUTUMN, 2023
The PCC4Refugees Newsletter brings you volunteer opportunities,
profiles of the impactful work being done by RPCVs around the country,
and ideas and lessons learned from groups helping refugees
build new lives in their local communities.
Additionally, we feature ideas from our Advocacy Team
about how you can be an effective voice for refugees, asylum seekers,
and other people on the move.
PCC4Refugees Focuses on the Afghan Adjustment Act in Congress
The Afghan Adjustment Act (AAA) of 2023, S.2327/H.R.4627, is a bipartisan bill that
would provide a path to permanent status to tens of thousands of Afghans who were
evacuated to the U.S. following the fall of Kabul in August 2021. The legislation
expands on reporting and vetting provisions in previous versions of the
Afghan Adjustment Act and establishes an authorization for appropriations,
to ensure that eligible Afghan evacuees have received rigorous vetting and screening,
while providing pathways to protection for those left behind outside of the United States.
Forty-one members of the US House of Representatives and 13 members of the
US Senate have agreed to co-sponsor this bill, half Democrats and half Republicans,
but it cannot get action until the Judiciary Committee moves to bring it up for a vote.
The fact that 13 Senators and 41 members of the House, both Democrats and
Republicans, have specifically agreed to co-sponsor the Afghan Adjustment Act
HAS NOT YET been able to move this bill forward. But if they haven't yet,
please ask your member of Congress to also co-sponsor the Afghan Adjustment Act.
Consider sending a message such as this, adding any personal comments:
--Americans support the Afghan Adjustment Act; will you?--
"I am one of many of your constituents who urge you to support and co-sponsor the
Afghan Adjustment Act in Congress THIS MONTH.
After all the millions of dollars spent on Afghanistan and our failure there, we think
the least that should be done is to provide protections to the Afghans who had to
evacuate so desperately the past two years.
We cannot understand why, except for political divisions in our Congress,
we cannot afford them the status evacuees from previous wartime evacuations of
Cubans after the rise of Castro, Vietnamese after the fall of Saigon, and
Iraqi Kurds during the rule of Saddam Hussain received by our nation in the past."
Sincerely,"
OR... If your Senators or Representative have already co-sponsored the Afghan
Adjustment Act, please thank them. Lists of the current co-sponsors are here:
Co-sponsors in the Senate:
https://www.congress.gov/bill/118th-congress/senate-bill/2327/cosponsors?q=%7B%22search%22%3A%22Afghan+Adjustment+act%22%7D&s=1&r=1&overview=closed#tabs
Co-sponsors in the House:
https://www.congress.gov/bill/118th-congress/house-bill/4627/cosponsors?q=%7B%22search%22%3A%22Afghan+Adjustment+act%22%7D&s=1&r=2&overview=closed#tabs
Refugees Find Safety and Community Help Through Welcome Corps

There are over 27 million refugees worldwide—a staggering number that continues to
grow each year due to long-term conflicts in countries like the Democratic Republic of
the Congo, Syria, and Myanmar, and emergencies like those in Afghanistan and Sudan.
Refugees have been forced to flee their country to find safety, and often live in limbo
in refugee camps, unable to rebuild their lives. Less than 3 percent of refugees
are able to return home. As the boldest innovation in refugee resettlement in
four decades,Welcome Corps makes it possible for everyday Americans to privately
sponsor refugees to the U.S. from around the world, giving them the chance to achieve
their human potential.
Private sponsorship through the Welcome Corps program builds on America's
long tradition of providing safety and protection to people seeking refuge—a
nd gives everyday Americans the opportunity to be the bridge to safety.
FOR MORE INFORMATION: https://welcome.us/become-a-sponsor/sponsor-
refugees-from-around-the-world
RPCV Doctor Reports From Our Southern Border.
The Peace Corps Community for Refugees recently received the following update
from Dr. Brian Elmore, RPCV, who is providing medical assistance in the El Paso,
Texas, and Juarez, Mexico, areas at our southern border. We are very thankful for
Brian's updates and for the links he provides for those of you interested in helping.
Brian writes:
"Shelters in El Paso and Juarez are over capacity and strained beyond their limits.
We have a large number of migrants being released onto the streets in El Paso
because of this. Both Annunciation House and Sacred Heart, two of the largest
shelters in El Paso, are hurting for volunteers. Here are links to inquire
about volunteering at either of these shelters in the city of El Paso, Texas:
Annunciation House: https://annunciationhouse.org/get-involved
Sacred Heart: https://www.sacredheartelpaso.org/new-page-3
"The National Guard, under Operation Lone Star, has erected barbed wire all along
the Rio. In the Emergency Department in El Paso where I work, I have started
to see barbed wire injuries in children which has been pretty jarring.
"My Clinic, Clinica Hope, is also hurting for medical volunteers-- specifically,
physicians, PAs and NPs. RPCV's are urged to consider volunteering at our clinic
in Ciudad Juarez:
https://docs.google.com/forms/d/1MUrGE6YrNJycBvNPBkBU7UEXMrlpQnKxrc
KcWbwxNek/viewform?edit_requested=true
-- FROM Brian Elmore, MD., Returned Peace Corps Volunteer
Director, Clinica Hope, Juarez, Mexico
PCC4R Joins NPCA's Continuation of Service Program
PCC4R has joined together with GivePulse, Museum of the Peace Corps Experience,
Reading Partners, HIAS, RPCVs for Environmental Action and the Immigrant
and Refugee Outreach Center to facilitate and highlight volunteer needs and
engagement opportunities around the country. To learn more about the initiative,
click here:
https://www.peacecorpsconnect.org/cpages/global-reentry-continued-service-opportunities
AND to learn more about what volunteer opportunities PCC4R needs at the
moment, please click here:
https://npca.givepulse.com/group/915246-peace-corps-community-for-refugees
Refugee and Immigration Film Festivals this month
Two inspiring Refugee and Immigration Film Festivals are offering films virtually
throughout the United States this October. Interested persons can register ranging
from free to only $10 each for any of these powerful and relevant on-line presentations.
1. The 10th Annual Immigration Film Fest hosted by KAMA DC
Ten intriguing films are available virtually from the KAMA DC Immigration Film
Festival from October 19 to 29. Virtual access at any time between those dates
is available in advance now for $5 to $10 per film presentation, or a purchase of a
$50 pass for all the films.
Listed here are the ten film presentations available on-line at the 10th Annual
Immigration Film Festival:
https://immigrationfilmfest2023.eventive.org/films
2. The Western New York Film Festival hosted by Journey's End
Refugee Services, Buffalo, NY: at 7 PM, Thursday, November 26:
STRANGE FISH, a film from Tunisia, will be available free virtually-
Register here:
https://interland3.donorperfect.net/weblink/WebLink.aspx?id=90&name=E11271
"Set primarily in Zarzis, Tunisia, and the waters of the Mediterranean Sea, Strange Fish
tells the story of Tunisian fishermen who have, without fanfare, been rescuing
migrants and recovering the dead along the world's deadliest migration route.
The film's title, a reference to Billie Holiday's haunting "Strange Fruit," links the deaths
of African migrants en route to Europe and the lynching of African Americans.
As the camera moves between images of the sea, fishing livelihoods, and shipwrecks,
viewers learn how local fishermen have been affected by and responded to this violence,
including their quiet work to maintain a migrant cemetery where the dead can be buried
with respect, dignity, and a prayer for their souls."
Peace Corps Community for Refugees Represented
at Washington Nationals Park "Peace Corps Parade of Nations"
On September 6, 2023 the Peace Corps hosted its annual "Peace Corps Night at
Washington Nationals Park." Two members of the PCC4R team were honored to be
selected to be Flag Bearers in the traditional "Parade of Nations." The participants
carried flags representing the 64 countries where Peace Corps Volunteers are currently
living and working
Pictured are Peter Deekle (RPCV Iran) and Christine Madaio DiStasio (RPCV Lesotho).
It was a great night for publicly celebrating the continuing impact of the Peace Corps!
Peace Corps Community for Refugees is Back on Instagram!
Follow us on Instagram! @pcc4refugees or this link
https://www.instagram.com/pcc4refugees/
Facebook - Like Us!
Our Facebook account is a frequently-updated source of information about the
news and issues affecting the work accomplished by RPCVs active in refugee work.
If you already follow us on Facebook, we thank you and ask that you consider sharing our posts.
For those new to Peace Corps Community for Refugees, please follow us on FACEBOOK
like and share our posts. It's a powerful tool for educating friends about the facts and realities
faced by refugees and asylum seekers.
---