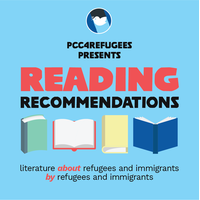 By: Morgan King, RPCV Panama
---
When you envision a refugee what do you imagine? A man? A woman? A child? A boat in the ocean? A plane landing? A family fleeing?
The images we have internalized of refugees and immigrants are often thwarted by secondary reporting from news outlets, cinematographic dramatizations, and misinformed policy. The best resource for reliable information is at the source: in this case, learning about refugees and immigration through first person accounts.
We asked our Peace Corps Community for Refugees volunteers and social media followers to recommend their favorite books about refugees, asylum seekers, immigration, acclimation, legal processes, etc. written by the people who have lived experience. Here are the results:
"New Mainers: Portraits of Our Immigrant Neighbors" by Pat Nyhan

Good Reads Summary: They came to Maine for a job or to reunite with their family
or because they fell in love or to attend college here or to flee persecution in their homelands. Although the twenty-five immigrants who
tell their stories had widely varying reasons for coming to Maine, many have made remarkable contributions to the state. As you will find out, the journeys of these immigrants have not been easy, but all of them are glad they wound up in this state and are proud of their new identities as Mainers.

PCC4Refugees Review: PCC4Refugees volunteer, Pat, wrote this book from interviews with mostly refugees, but also some other types of immigrants. Published in 2009 when refugees in Maine, the whitest, least diverse state in the U.S., started receiving large numbers of refugees, it still is used in university classrooms and available from amazon, the publisher, and other outlets. Great photos by Pat's Dutch friend, an immigrant himself.
"I am Malala" by Malala Yousafzai

Good Reads Summary: "I Am Malala is the remarkable tale of a family uprooted by global terrorism, of the fight for girls' education, of a father who, himself a school owner, championed and encouraged his daughter to write and attend school, and of brave parents who have a fierce love for their daughter in a society that prizes sons."

PCC4Refugees Review: "When people hear Malala's name, they often envision her in her current fame: a world-renowned girls education activist. This story of her origin and desperate flight to England as a refugee is consuming and enlightening."
"The Good Immigrant" by Nikesh Shukla

Good Reads Summary: "Inspired by discussion around why society appears to deem people of colour as bad immigrants – job stealers, benefit scroungers, undeserving refugees – until, by winning Olympic races or baking good cakes, or being conscientious doctors, they cross over and become good immigrants, editor Nikesh Shukla has compiled a collection of essays that are poignant, challenging, angry, humorous, heartbreaking, polemic, weary and – most importantly – real."

PCC4Refugees Review: "A compelling collection of essays from myriad points of view and voices. Simultaneously telling both the same and different stories about being an immigrant in the United States."
"Americanah" by Chimamanda Ngozi Adichie

Good Reads Summary: "Ifemelu and Obinze are young and in love when they depart military-ruled Nigeria for the West. Beautiful, self-assured Ifemelu heads for America, where despite her academic success, she is forced to grapple with what it means to be black for the first time. Quiet, thoughtful Obinze had hoped to join her, but with post-9/11 America closed to him, he instead plunges into a dangerous, undocumented life in London. Fifteen years later, they reunite in a newly democratic Nigeria, and reignite their passion—for each other and for their homeland."

PCC4Refugees Review: "Written with wit and candor, Americanah uniquely captures the experience of being a Black African in the United States."
| | |
| --- | --- |
| "They Poured Fire on Us from the Sky" by Alephonsion Deng | Good Reads Summary: "In They Poured Fire on Us From the Sky, Alepho, Benson, and Benjamin, by turn, recount their experiences along this unthinkable journey. They vividly recall the family, friends, and tribal world they left far behind them and their desperate efforts to keep track of one another. This is a captivating memoir of Sudan and a powerful portrait of war as seen through the eyes of children. And it is, in the end, an inspiring and unforgettable tribute to the tenacity of even the youngest human spirits." |
Good Reads Summary: "In Separated, Soboroff weaves together his own experience unexpectedly covering this national issue with other key figures in the drama he met along the way, including feuding administration officials responsible for tearing apart and then reuniting families, and the parents and children who were caught in the middle. He reveals new and exclusive details of how the policy was carried out, and how its affects are still being felt."

PCC4Refugees Review: "A personal and in-depth examination of the Trump administration's policies that separated immigrant families. Well-written, heart-breaking investigative reporting that tracks a family from Guatemala."
"After the Last Border: Two Families and the Story of Refuge in America" by Jessica Goudeau

Good Reads Summary: "After the Last Border situates a dramatic, character-driven story within a larger history--the evolution of modern refugee resettlement in the United States, beginning with World War II and ending with current closed-door policies--revealing not just how America's changing attitudes toward refugees has influenced policies and laws, but also the profound effect on human lives."

PCC4Refugees Review: "Using the stories of two families from Syria and Myanmar, the author looks back at refugee resettlement from a historical perspective."
"The Undocumented Americans" by Karla Cornejo Villavicencio

Good Reads Summary: "In her incandescent, relentlessly probing voice, Cornejo Villavicencio combines sensitive reporting and powerful personal narratives to bring to light remarkable stories of resilience, madness, and death. Through these stories we come to understand what it truly means to be a stray. An expendable. A hero. An American."

PCC4Refugees Review: "One of the first undocumented immigrants to graduate from Harvard, the author tells her own story as a DACA recipient and and those of several others she meets around the country (I just started reading this one, but so far it's very good)."
"The Ungrateful Refugee: What Immigrants Never Tell You" by Dina Nayeri

Good Reads Summary: "Nayeri offers a new understanding of refugee life, confronting dangers from the metaphor of the swarm to the notion of "good" immigrants. She calls attention to the harmful way in which Western governments privilege certain dangers over others. With surprising and provocative questions, The Ungrateful Refugee recalibrates the conversation around the refugee experience. Here are the real human stories of what it is like to be forced to flee your home, and to journey across borders in the hope of starting afresh."

PCC4Refugees Review: "The author uses her own story as a refugee from Iran, as well as the stories of other recent refugees and asylum-seekers to break down frequently held myths myths about immigrants (haven't read this one yet, but it has received several awards and critical acclaim)."
"Behold the Dreamers" by Imbolo Mbue

Good Reads Summary: "Jende Jonga, a Cameroonian immigrant living in Harlem, has come to the United States to provide a better life for himself, his wife, Neni, and their six-year-old son. In the fall of 2007, Jende can hardly believe his luck when he lands a job as a chauffeur for Clark Edwards, a senior executive at Lehman Brothers. When the financial world is rocked by the collapse of Lehman Brothers, the Jongas are desperate to keep Jende's job—even as their marriage threatens to fall apart. As all four lives are dramatically upended, Jende and Neni are forced to make an impossible choice."

PCC4Refugees Review: "It tells of the realities of pursuing the American dream from the perspective of a Cameroonian family, as well as the divide between individuals of different socioeconomic classes. A very captivating read though heartbreaking!"
"The Spirit Catches You and You Fall Down" by Anne Fadiman

Good Reads Summary: "When Lia Lee, the 13th child in a family of Hmong refugees who had settled in Merced, was three months old, she was diagnosed with severe epilepsy. The series of events that cascaded from this diagnosis illustrate the potential thorniness of cross cultural interactions. Everyone wanted the best for Lia - especially her devoted parents and the dedicated doctors and staff at the hospital where she was repeatedly treated. But the parents' and hospital staff's inability to communicate with one another or to respect one another's special knowledge led, ultimately, to tragedy. "

PCC4Refugees Review: "It's a story about a Hmong refugee family who seek treatment for their ill daughter and the issues the family has with the Western doctors (and vice versa) and treatment because of cultural differences. "
Good Reads Summary: "A novel of breathtaking sweep and emotional power that traces three hundred years in Ghana and along the way also becomes a truly great American novel. Extraordinary for its exquisite language, its implacable sorrow, its soaring beauty, and for its monumental portrait of the forces that shape families and nations, Homegoing heralds the arrival of a major new voice in contemporary fiction."

PCC4Refugees Review: "It's a generational story (about trauma) starting from war times in Ghana, through the slave trade and up to modern day. It's a story about how we are shaped by history and the generations before us."
| | |
| --- | --- |
| "A Thousand Splendid Suns" by Khaled Hosseini | Good Reads Summary: "A Thousand Splendid Suns is a breathtaking story set against the volatile events of Afghanistan's last thirty years—from the Soviet invasion to the reign of the Taliban to post-Taliban rebuilding—that puts the violence, fear, hope, and faith of this country in intimate, human terms. It is a tale of two generations of characters brought jarringly together by the tragic sweep of war, where personal lives—the struggle to survive, raise a family, find happiness—are inextricable from the history playing out around them." |
| | |
| --- | --- |
| | Good Reads Summary: "Richly told and profoundly moving, Pachinko is a story of love, sacrifice, ambition, and loyalty. From bustling street markets to the halls of Japan's finest universities to the pachinko parlors of the criminal underworld, Lee's complex and passionate characters--strong, stubborn women, devoted sisters and sons, fathers shaken by moral crisis--survive and thrive against the indifferent arc of history." |
| | |
| --- | --- |
| "Man's Search for Meaning" by Viktor Frankl | Good Reads Summary: "Psychiatrist Viktor Frankl's memoir has riveted generations of readers with its descriptions of life in Nazi death camps and its lessons for spiritual survival. Based on his own experience and the stories of his patients, Frankl argues that we cannot avoid suffering but we can choose how to cope with it, find meaning in it, and move forward with renewed purpose. At the heart of his theory, known as logotherapy, is a conviction that the primary human drive is not pleasure but the pursuit of what we find meaningful. Man's Search for Meaning has become one of the most influential books in America; it continues to inspire us all to find significance in the very act of living" |
| | |
| --- | --- |
| "The Best We Could Do" by Thi Bui | Good Reads Summary: This illustrated memoir is about the search for a better future and a longing for the past. Exploring the anguish of immigration and the lasting effects that displacement has on a child and her family, Bui documents the story of her family's daring escape after the fall of South Vietnam in the 1970s, and the difficulties they faced building new lives for themselves. |
| | |
| --- | --- |
| "Far Tune: Autumn" by Terry Eisele | Good Reads Summary: Far Tune, the coming-of-age story of Fartun Hashi, a young Somali refugee girl, living in Columbus, Ohio, recounts a teenage girl's adjustment to a new culture and a new school and the alienation, loneliness, and eventual triumph over adversity that she experiences. |
| | |
| --- | --- |
| "A Nail the Evening Hangs On" by Monica Sok | Good Reads Summary: In her debut collection, Monica Sok uses poetry to reshape a family's memory about the Khmer Rouge regime—memory that is both real and imagined—according to a child of refugees. Driven by mythmaking and fables, the poems examine the inheritance of the genocide and the profound struggles of searing grief and PTSD. Though the landscape of Cambodia is always present, it is the liminal space, the in-betweenness of diaspora, in which younger generations must reconcile their history and create new rituals. A Nail the Evening Hangs On seeks to reclaim the Cambodian narrative with tenderness and an imagination that moves towards wholeness and possibility. |
---