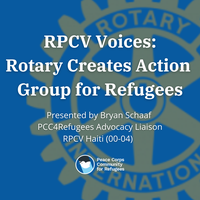 By: Bryan Schaaf (Haiti 00-04), PCC4Refugees Advocacy Liaison
---
As a volunteer in Haiti, I would see Rotary signs in the countryside, often next to wells and water pumps. However, it wasn't until I returned to the United States that I learned what Rotary is - a global network of clubs committed to service.
As an organization it is not religious although its members are welcome to be, it is not overly political although domestic and global advocacy is encouraged, and over time, the organisation has become more diverse and inclusive – especially the younger clubs. I joined a Rotary Club in Washington DC, and as I moved from country to country, several others after that. Languages and cultures change, but a shared commitment to service is a great way to connect to people and causes.
Both Rotary International and Peace Corps share the same commitment to service. Rotary has over 1.2 million members and more than 34,000 clubs in 200 countries. To date, more than 241,000 Peace Corps volunteers have served in 143 countries. The geographic overlap is considerable as are the shared priorities which include promoting access to education, health care, water/sanitation/hygiene, and peace building, protecting the environment, and developing local economies.
Many volunteers around the world have been involved with projects supported by Rotary Clubs. Others have gone on to join Rotary Clubs themselves, writing grants and finding others ways to support the communities where they served. In 2014, Peace Corps and Rotary International formalized a partnership agreement. Notably, the agreement encouraged Rotary Clubs to provide small grants to support Peace Corps Volunteers and their communities.

Rotary International also has a series of Rotary Action Groups (RAGs) which bring together people from around the world to collaborate on mutual priorities which include water/sanitation/hygiene, mental health, education, peace-building and many others. The newest of these is the Rotary Action Group for Refugees, Forced Displacement, and Migration. Its purpose is to help Rotary Clubs/Districts and their partners to prepare, implement, and evaluate projects in support of refugees, internally displaced persons, migrants, and other relevant populations – whether in our own communities or abroad.

A day will come when the Peace Corps once again has a network of volunteers around the world. In the interim, there are many opportunities for Rotary Clubs and Returned Peace Corps Volunteers to work together. They can shape projects in support of these populations and raise awareness about both the causes and solutions to forced displacement. In our own communities, there are many opportunities to work with asylum seekers, vulnerable migrants, and as the program rebuilds under the Biden Administration, resettled refugees.
Stay tuned for future blogs providing examples of how organizations across the United States are supporting vulnerable migrants and asylum seekers.
Interested in learning more about Rotary? Take a look at their website and use the Club Locator to find where Rotary Clubs are in your vicinity and when/where they meet.


Interested in learning more about networking with Returned Peace Corps Volunteers? Check out the National Peace Corps Association and its regional affiliate groups here.
---