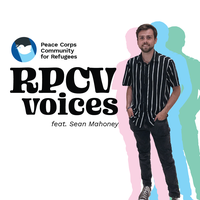 By: Sean Mahoney
---
RPCV Voices is a blog series on the Peace Corps Community for Refugees website. The purpose is to allow returned Peace Corps Volunteers the opportunity to share their experience as refugees, work with refugee communities, or opinions about the refugee crisis. If you have a story to share, please email info@pcc4refugees.org
---
Last year, the pandemic turned my expected two years of Peace Corps service into just nine months. As I left Panama and returned to New York, I was unsure what to do next. In an attempt to keep my mind off the devastation of a service that ended too soon, I applied to graduate schools. Five months later, I began my master's degree in public policy at the University of Maryland.
Like many Peace Corps Volunteers, my experiences during service heightened my desire to pursue a career where I could work alongside under-resourced communities to improve their quality of life and access to resources. I wanted to gain educational and professional experiences that would reinforce the skills needed for an impactful career. My internship with Lutheran Social Services of the National Capital Area did just that.
Lutheran Social Services and the Mentoring Program
Lutheran Social Services (LSS) is one of many refugee resettlement organizations in the United States. I worked at the National Capital Area branch, who work with clients in Maryland, Virginia, and Washington DC.
While LSS provides a variety of services to refugees and other vulnerable populations, my work as the Youth Programs Assistant was with the Refugee Youth Mentoring Program. The program is relatively new and focuses its efforts on youths aged 15 to 24. This age-group is often defined as "at-risk". Many of them are finishing high school, or beginning a college education, and there is uncertainty about the next step. This age is particularly difficult for refugees.
Many LSS clients are from Afghanistan or El Salvador and do not speak English fluently. On top of this, the cultural differences and transition to the US education system can make it difficult for young refugees to succeed in high school, college, and the workforce. The Youth Mentoring Program recognizes these barriers and provides clients with assistance in whichever form they need.
Peace Corps Volunteer to Youth Mentor Volunteer
The Mentoring Program is reliant on volunteer mentors who dedicate a few hours every month to meet with their clients, research career and educational opportunities, and attend training sessions and informational meetings to understand how they can best serve refugee youths.
Since January, I have had the opportunity to be a volunteer myself. I work with a 17-year-old who arrived in the United States just prior to the pandemic. Together we have explored career paths, learned more about part-time work for high school students, and completed homework assignments. Meeting with my mentee weekly via Zoom lets him practice his English language skills and learn more about the opportunities available to young adults in the DMV area.
I cannot help but connect my experience with the LSS Mentoring Program to my Peace Corps service. As mentor, I have taken a lot of what I learned from the Peace Corps to assist my mentee. Perhaps the most obvious connection is the shared objective of the Peace Corps and the Mentoring Program: Empowerment. The goal of mentors at LSS is to empower their clients to succeed in whatever path they choose. We aren't just giving mentees answers to their homework or setting them up with a sweet job; we are assisting them in deciding what they want to do with their lives and working with them to break down barriers that may hinder their self- and career-growth.
Similar to the Peace Corps, my time volunteering with LSS has been full of learning about new cultures and sharing mine with my mentee. Peace Corps Goals 2 and 3 highlight the agency's mission to promote a better understanding of Americans on behalf of the people's served and vice versa. I have learned a great deal about Afghanistan, the Dari language, and the differences in culture that my mentee has to navigate now that he lives in Virginia.
Prior to volunteering, my understanding of Afghanistan was rather limited. While I still have a lot to learn, meeting with my mentee every week has taught me so much. Since he moved here just before the pandemic, he has had limited exposure to Americans outside of his classmates. Throughout the past months we share things about ourselves and our lives to foster a relationship. Through our acquaintanceship, he has learned more about culture here in the US and the English language.
Going from a Peace Corps Volunteer to a volunteer mentor with a refugee resettlement agency has encouraged me to continue using the soft skills I learned in Panama to foster cross-cultural relationships and support individual's in improving their lives. Refugees face social, political, and economic barriers that make the adjustment to life in the United States difficult. Organizations like Lutheran Social Services are vital in supporting refugees and other vulnerable groups to ensure that they are given adequate resources and opportunities in their new home. It has been a pleasure to work with an organization that does such impactful work. As I continue in my career path, I will carry with me the lessons I've learned from both of my volunteer experiences to do my part in creating positive change.
If you're interested in being a youth mentor with Lutheran Social Services of the National Capital Area, visit the website to learn more about the program and apply!
---