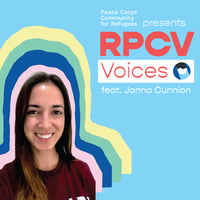 By: Janna Cunnion, RPCV Ecuador
RPCV Voices is a blog series on the Peace Corps Community for Refugees website. The purpose is to allow returned Peace Corps Volunteers the opportunity to share their experience as refugees, work with refugee communities, or opinions about the refugee crisis. If you have a story to share, please email morganking296@gmail.com.
---
This past summer, I had the honor of working with the International Rescue Committee (IRC) as a Classroom Culture Lead Teacher. To give some history, the IRC was founded amid the rise of Nazi Germany to assist refugees coming to the United States. Since then, it has helped millions of people in the direst of circumstances in 40+ countries and 20 US cities. They work to provide education, nutrition, clean water, shelter, and empowerment to refugees and displaced people.
One of the IRC's many programs is the Refugee Youth Summer Academy (RYSA), a six-week summer program focused on preparing refugee students to enter the New York City public school system. Students take core classes in science, English, math, as well as the arts.
In a non-pandemic world, my job as a Classroom Culture Lead Teacher would be head camp counselor: mentor students through community circles, fishbowl discussions, reflection sessions, and the transition between classes. Given the pandemic, however, RYSA this year was entirely virtual. I was nervous about how this program would continue. Getting 20+ teenagers to sign into Zoom every day for a voluntary summer program seemed unlikely. What incentive was there?
Luckily, the IRC team is nothing if not innovative which shouldn't have surprised me. There was such dedication to give students both academic support and a space to decompress and process what was going in the world. The IRC stuck to the regular RYSA program as much as was possible: where in a 2019 world students had field trips to sites around New York City, 2020 students took virtual field trips; where 2019 students might have sat and sang in a school gym for community circle, 2020 students sang in a 100+ person Zoom meeting. A sense of common purpose rang through each laptop speaker as we chanted our RYSA cheer.
The students I worked with were incredibly hardworking and made impressive growth throughout our six short weeks. We painted, made movies, read poems, learned algebra, analyzed historical perspectives, and danced online. We discussed their goals for the upcoming year, their fears surrounding COVID, and their feelings on social justice. Though 2020 has left us craving for the physical social connection we humans are designed to need, such interaction and comfort can be still fostered through a computer screen.
I encourage all compassionate people to work or volunteer with the IRC. Opportunities range from administrative work to tutoring, community engagement, and economic empowerment.
To learn more, check out: https://www.rescue.org/how-to-help
---