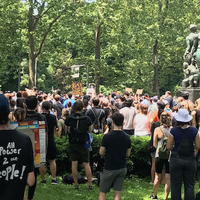 The Peace Corps Community for Refugees stands in solidarity with all people of color in our national community and with allies across the country in response to the murders of George Floyd, Breonna Taylor, and Ahmaud Arbery, and countless other instances of racial injustice.
We strongly endorse the National Peace Corps Association's Statement on Racial Justice (https://www.peacecorpsconnect.org/articles/stand-against-racial-injustice).
The world looks on as we as a nation struggle to confront injustices and inequities which permeate many institutions and structures in our society today. As Returned Peace Corps Volunteers, we recognize that the fight for equity and justice extends well beyond our international service and is inextricably tied to the Peace Corps' mission to promote world peace, understanding, and friendship.
The Peace Corps Community for Refugees recognizes that many refugees and asylum seekers of color bear the burden of racism and violence in America on top of the enormous challenges unique to their status, including trauma, language and communication barriers, isolation, and more. Indeed, many face racism and racially-based harassment quickly after their arrival in the U.S.
We stand with those calling for change at every level to confront racist structures and institutions, hold our police accountable, and ensure that all people of color in our communities can live safely and thrive.
As we all grieve, it is also up to each of us to remember that it is not enough to simply not be racist. We must each commit to being antiracist . We must all have conversations with our friends and family about race, urge our elected leaders at every level to enact change, and learn about the work of social justice organizations in our area and related actions we might take. Now is not the time for us to be silent.

---