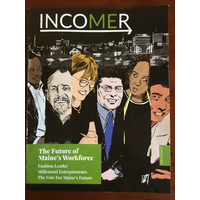 By Patricia Nyhan
"Who would have thought an immigrant magazine in Maine, circulating its way into the homes and businesses of both new and rooted Mainers, would spark support from so many." -- Incomer publisher and editor-in-chief Layla Kargar.
The print and online quarterly magazine started by young immigrants that speaks to fellow immigrants as well as a broader readership, has indeed made its mark. I don't know of another according to Google that is written by refugees and other immigrants, in their own voices, although I expect to hear of more.
Recent Incomer features include success stories about entrepreneurs – a Congolese fashion designer; a Vietnamese owner of Fisherman's Net, a seafood market in Portland; a halal "Five Pillars Butchery" in rural Maine started by an Iraqi man and his American wife. Other stories explore cultural customs such as the meaning of Ramadan and the importance of soccer to immigrants.
"The Future of Maine's Workforce" cover story in Incomer's current issue lays out why immigrants are critical to the state's dwindling workforce, underscoring a refrain often heard there by economic development experts.
"We are engaged in the worst labor shortage in my lifetime," said Greg Dugal, president of the Maine Innkeeper's Association, in the article, which outlines how the Trump administration is cutting back on visas that allow foreign workers to work in Maine.
A poor state whose youth exodus leaves it relying increasingly on immigrants, Maine has extended a welcome for refugees since the 1970s. Lately, though, it is known both for the vitality of its Portland-area refugee community and its virulently anti-immigrant Governor Paul LePage.
"There is this general lack of wanting to have a conversation, or engage in examining nuances," said Kerem Durdag, a Pakistani immigrant of Turkish descent, in an Incomer article on the chief operation officer of GWI, a telecommunications company in Biddeford, Me.
Layla Karga in a "Publisher's Note" in the current issue, remains optimistic.
"The outreach and guidance I've received from all over the state proves that the people of Maine have an alternative vision for the future; one that is shared by few in the State House. With any luck – and a pinch of common sense – we will help ignite a statewide movement," she wrote.
"Here's a thought: Driving into Maine, you can't miss the large welcome sign greeting you. It reads, 'Welcome to Maine: The Way Life Should Be.' It's time to usher in a new state slogan, one that promotes our values and new direction: Welcome to Maine. Where Equality and Acceptance is our way of life. Open for Business."
Check out Incomer at https://incomermagazine.com
Publisher's Statement by Layla Kargar
Incomer, 4/4/2018
Asalamalakim, and Hello!
My family would be categorized as immigrant refugees, or by today's standards, a double whammy. Fortunately, when we came over, America was a welcoming, safe haven for those fleeing regions of war. The mountains of Afghanistan had become the battlefield playground for the invading Soviets and the Taliban regime, and it was time to get out. Next stop: Portland, Maine, USA.
The moment we arrived, the American Dream took hold in our house. The days turned into nights as ESL classes, citizenship goals, and trips to Home Depot became our incomer life routine. We did this year after year, while my parents took to the streets (literally, no email, no internet) searching for their next property investment. They followed a purpose, fueled by an ideology upon which this country's foundation was built. Hard work and dedication pays off.
"There are no excuses," my dad would say, "No excuses." They believed it was possible, because they believed in themselves and had faith in their new country. From Herat, Afghanistan to Portland, Maine, they are the American Dreamers, the new pioneers.
I didn't realize until after I began this magazine, that I too was a pioneer—an American Dreamer, just like my parents. It wasn't passion for real estate that drove my ambition, but purpose for fair business payments. Using the same ideology my parents followed, I started a local payment technology company, Express Solutions.
I was not able to afford to advertise in a magazine until the end of my second year in business (millennial problems). Since I service other local business owners, from Portland to Lewiston, my first instinct was to flip through the pages and look for my merchants!
I began to notice an important business demographic that was missing from the pages of the magazines—immigrant business owners who, quietly and without accolades or recognition, are steadily building Maine's economic forefront.
New Mainers, our welcomed Incomers, the American Dreamers.
---