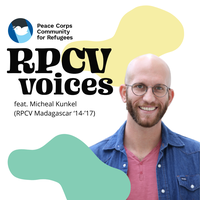 RPCV Voices: Mobilizing in Support of Afghan Refugees
By: Morgan King (RPCV Panama '19-'20) with input from Michael Kunkel (RPCV Madagascar '14-'17)
---
When the United States withdrew from Afghanistan in August 2021, hundreds of thousands of Afghans who had supported the US mission for 20+ years were put in immediate danger. The stream of Afghan refugees and SIV-recipients intensified as US resettlement agencies adjusted to increased demands.
In response to the influx of Afghans entering the US, the global network of Returned Peace Corps volunteers, including PCC4Refugees members, mobilized to ensure our allies are received with welcome.
Michael Kunkel (RPCV Madagascar '14-'17) is a Senior Recruiter for Peace Corps and Membership Coordinator for the Peace Corps Community for Refugees based in Brooklyn, New York. In November 2021, he was selected for a temporary work assignment to join a State Department (DoS) team at one of the U.S. military bases. As a federal employee of the Peace Corps, Kunkel was chosen to join this inter-agency team. The program, entitled Operation Allies Welcome, recruits volunteers to assist with the initial processing of Afghans at pre-designated U.S. military bases prior to being connected with non-governmental organizations for resettlement into communities.
On November 10, 2021, Kunkel arrived in Fort McCoy, Wisconsin for a five week commitment, 6 days a week, for 10+ hours per day with the DoS Departures Team. With minimal formal training or advanced information, Operation Allies Welcome volunteers are expected to jump into the action on day one. Kunkel bonded quickly with his fellow volunteer team mates and military base personnel who were all "in the trenches" together trying to facilitate the logistics of initial resettlement. Kunkel built upon his previous social work and case management skills to provide support to the base guests.
"I got to see first hand, and be a small part of, the many incredibly talented, committed, and compassionate people who came together and often moved heaven and earth to welcome, care for, and empower thousands of strangers who were in incredibly vulnerable circumstances." - Michael Kunkel
During his time at Fort McCoy, Kunkel experienced the reality of resettlement during the greatest influx of refugees and parolees than any other point in the nation's history and amidst a pandemic. The day-to-day work on base was fast-paced and often emotionally heavy as volunteers navigate complex resettlement processes, unclear US migration infrastructure, and heart wrenching stories from guests.
However, there were also opportunities to connect individually with guests, team members, interpreters, and military partners. In an imperfect resettlement infrastructure riddled with bureaucracy, Kunkel believes it is vital to make genuine connections with our new neighbors and choose to work in service of others.
While there is no typical week with Operation Allies Welcome, the following provides an idea of what volunteers may experience:
| | | |
| --- | --- | --- |
| Mon-Sat | 3:30am-5:00am | Support DoS, United Nations Migration (IOM), and military partners to troubleshoot issues for departing guests. |
| Mon-Sat | 9:15am-12:30pm | Represent DoS during daily briefings for guests with imminent travel about the resettlement process, benefits, and step-by-step what to expect during travel from the base to the new resettlement community (presentation in both Dari and Pashto languages). This daily briefing is the first time guests learn which city in the U.S. they will be resettled. Provide 1:1 support to guests when questions, concerns, or issues arise about resettlement placement. |
| Mon-Sat | 3pm-5pm | Coordinate with military partners to hold "office hours" for guests who have upcoming travel or concerns to ask questions and elevate issues, with the help of interpreters. Counsel guests, record major issues, and address issues elevated by DoS team members. I'd say this was probably the most stressful and emotionally taxing part of my day, but also the most humbling because I got to interface with guests directly. |
| Tues & Fri | 2:00pm-2:30pm | Facilitate a meeting with military partners and IOM leadership to discuss ongoing or anticipated issues with the departure process. |
| Mon-Sat | As needed | Triage issues recorded throughout the day and determine which items needed to be elevated to IOM (usually ticketing and travel logistic issues) or International Rescue Committee (IRC) (usually resettlement location and family ties issues). |
If you're interested in volunteering with Operation Allies Welcome, find more information here. However, supporting refugees does not necessarily require a five week commitment at a base across the country. You are able to support Afghans in your very own community. Local resettlement agencies are actively seeking donations, volunteers, and financial support to welcome our new Afghan neighbors with dignity and respect.
PCC4Refugees has compiled a list of wishlists field with requests for clothes, toiletries, baby supplies, etc. in communities across the country. PCC4Refugees also provides current volunteer openings and needs across the country via our newsletter, Instagram, Facebook, and Twitter. Get connected and support Afghans near you!
---